SMT Fuses provide overcurrent protection for PCBs.
Press Release Summary: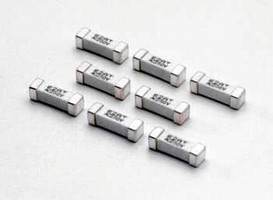 Measuring 10.1 x 3.12 x 3.12 mm, Series 0443 time-delay fuses are suited for applications with 250 Vac requirement and limited space. They have inrush current withstand (I2t) ratings of up to 127A2s (5A current rating) along with time lag characteristic. Units offer current ratings from 500 mA to 5 A with interrupting rating of 50 A at 250 Vac. Fuses are used by OEMs of products that have ac inputs for LED lighting, notebook PC power adapters, or ac/dc power module.
---
Original Press Release:

Littelfuse 250 VAC Surface-Mount Time-Delay Fuse Series Improves Circuit Protection of Printed Circuit Boards



New fuse series provides high inrush current withstand (I2t) capability for 250VAC, while maintaining a very small footprint for crowded circuit boards

DES PLAINES, IL - May 13, 2008 - Littelfuse, Inc. (NASDAQ/NGS:LFUS) today introduced its 0443 surface mount time-lag fuse line for overcurrent protection of printed circuit boards.

With dimensions of approximately 10.1 x 3.12 x 3.12 mm, these fuses are ideal for applications with the higher 250 VAC requirement and where space is limited.

They have inrush current withstand (I2t) ratings of up to 127A2s (5A current rating) along with a time lag characteristic. This means lower probability the fuse will open during momentary overloads, which can add up to lower warranty board replacement costs.

The small size characteristic of the 0443 Series was designed to be particularly attractive to OEMs of products that have AC inputs for LED lighting, notebook PC power adapters, or any AC/DC power module.

The 0443 Series offers current ratings from 500mA to 5A, all with an interrupting rating of 50A at 250VAC.

This product series complements Littelfuse's broad line of DC surface mount fuses used on the secondary side of power circuits, with ratings from 62mA to 15A at voltages from 24 to 350VDC.

As a market leader in surface-mount fuse technology, Littelfuse offers OEMs production capacity for high volume demand, and fast production ramp-up for short lead times. Its DC surface mount fuses are used in demanding applications such as protection of lithium battery packs, DC/DC converters, LCDs, and telecom line cards. Agency approvals of these products include UL, CSA, METI and VDE.

Availability OEM samples of the 0443 Series are available from stock. Tape and reel orders typically ship 4-6 weeks ARO.

For Detailed Specification Information visit www.littelfuse.com/series/443.html

For More Information about Littelfuse and our other circuit protection products, please visit www.littelfuse.com or contact the Littelfuse Technical Support line at 1-800-999-9445.

About Littelfuse

As the worldwide leader in circuit protection products and solutions with annual sales of $536.1 million in 2007, the Littelfuse portfolio is backed by industry leading technical support, design and manufacturing expertise. Littelfuse products are vital components in virtually every product that uses electrical energy, including automobiles, computers, consumer electronics, handheld devices, industrial equipment, and telecom/datacom circuits. Littelfuse offers Teccor®, Wickmann® and Pudenz® brand circuit protection products. In addition to its Des Plaines, Illinois, world headquarters, Littelfuse has sales, distribution, manufacturing and engineering facilities in Brazil, China, England, Germany, Hong Kong, India, Ireland, Japan, Korea, Mexico, the Netherlands, the Philippines, Singapore, Taiwan and the U.S. For more information, please visit Littelfuse's web site at www.littelfuse.com.

Contact:

Dan Stanek

Director of Marketing & Corporate Marcom

Littelfuse, Inc.

Tel: 847-391-0714

[email protected]