Electrical Sensors / Detectors / Transducers
SMT Force Sensor allows for automated assembly on PCB.
Press Release Summary: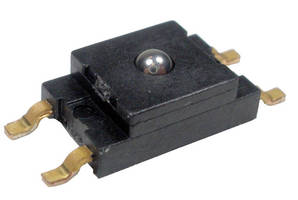 Providing 20 million Mean Cycle To Failure (MCTF) at 25°C, low profile FSS-SMT Series utilizes low power consuming, unamplified, uncompensated Wheatstone bridge circuit design that provides inherently stable millivolt output over force range. Sensor offers low deflection of 30 microns typical at full scale. Applications include occlusion detection, load and compression sensing, and variable tension control in ambulatory, enteral, and infusion pumps, and clinical diagnostic equipment.
---
Original Press Release:

Honeywell Introduces Its Smallest Force Sensor, a Low Profile Surface Mount Technology (SMT) Device That Helps Reduce Assembly Costs



FSS-SMT Series Force Sensors

Economical, Reliable FSS-SMT Series Sensor Takes Up Less Space on the Printed Circuit Board; SMT Packaging Often Eliminates Hand Soldering

MINNEAPOLIS, July 14, 2009 - Honeywell (NYSE: HON) today introduced its smallest force sensor, the FSS-SMT Series, a low profile surface mount device that allows for automated assembly on a printed circuit board (PCB), often eliminating hand soldering and helping to reduce assembly costs. Cost-conscious customers will be attracted to the FSS-SMT Series because it provides all four points of the Wheatstone bridge sensing element that gives them the flexibility to customize and integrate the sensor into other system electronics.

The FSS-SMT Series is designed to provide excellent reliability with a 20 million Mean Cycle To Failure (MCTF) at 25 °C [77 °F] rating that allows for consistent output over time, helping to reduce repairs or replacements. Low deflection (30 microns typical at full scale) and fast response help reduce measurement errors. Its stainless steel ball provides excellent mechanical stability, while the use of innovative elastomeric technology and engineered molded plastics results in load excitation capacities of 44 N over-force, making the sensor better able to handle unexpected increases in load.

Potential applications include occlusion detection, load and compression sensing, and variable tension control in ambulatory pumps, clinical diagnostic equipment, enteral pumps, infusion pumps, kidney dialysis machines, and wire bonding equipment.

The FSS-SMT Series is designed to provide precise and reliable force sensing performance in a compact commercial-grade package. The sensor incorporates Honeywell sensing technology that uses a specialized piezoresistive micromachined silicon sensing element. The low power consuming, unamplified, uncompensated Wheatstone bridge circuit design provides inherently stable millivolt output over the force range.

The FSS-SMT Series is an extension to Honeywell's force sensor portfolio that includes the FSG Series, FSS Series, 1865 Series, and FS01/FS03 Series.

Honeywell International (www.honeywell.com ) is a Fortune 100 diversified technology and manufacturing leader, serving customers worldwide with aerospace products and services; control technologies for buildings, homes and industry; automotive products; turbochargers; and specialty materials. Based in Morris Township, N.J., Honeywell's shares are traded on the New York, London, and Chicago Stock Exchanges. For more news and information on Honeywell, please visit www.honeywellnow.com.

Company Name: Honeywell

City: MINNEAPOLIS

State: MN

Phone: (763) 954-5378

URL: www.honeywell.com

Contact Name: Robyn Seykora

E-mail: Robyn.Seykora@Honeywell.com

Related