SMD Safety Y2 Capacitor targets automotive applications.
Press Release Summary: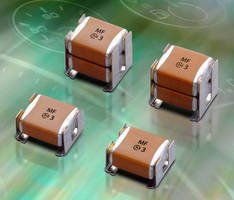 Accommodating electric and hybrid electric vehicle demands, KCA series can be used as part of AC power line filter in battery charger or as DC line filter of DC-DC converter/inverter unit. Construction, including use of metal terminals, promotes resilience against vibration and bending stresses. Certified to AEC-Q200, product comes in 2,200, 4,700, or 10,000 pF capacitance values and is also designed to accommodate mechanical shock and movement encountered in automotive environments.
---
Original Press Release:

Surface Mount Safety Capacitor Targets Automotive Applications



Hoofddorp, Netherlands: Murata today announced what is believed to be the world's first SMD safety "Y2" capacitor designed for automotive applications. Approval to the internationally recognized standard for safety capacitors, IEC 60384-14 that stipulates protection from electrical shock and risk of fire is pending. With the growing demand for electric (EV) and hybrid electric vehicles (HEV), the KCA series of capacitors are ideal as part of an AC power line filter in a battery charger or as a DC line filter of a DC-DC converter/inverter unit.



The construction of the KCA series also incorporates techniques to improve long-term resilience against vibration and bending stresses. This includes the use of metal terminals as protection against substrate expansion and contraction forces that can cause solder crack failure as a result of the wide temperature changes experienced. Also, the series offer higher reliability characteristics compared to discrete capacitor elements since they are designed to accommodate the higher levels of mechanical shock and movement encountered in any automotive environment.



The KCA series is also certified to the automotive industry AEC-Q200 stress test qualification for passive components.



Rated at 630 VDC working voltage, the KCA series is available in 2,200, 4,700 or 10,000 pF capacitance values.



For further information and reader enquiries:

Aya Tonooka, Murata Europe Limited. Oak House, Ancells Road, Ancells Business Park, Fleet, Hampshire  GU51 2QW , United Kingdom



Tel: +44 (0) 1252 811666  E-mail: atonooka@murata.co.uk

Fax:  +44 (0) 1252 811777  Web: www.murata.eu



Agency contact:

Robert Huntley, Publitek Limited, 18 Brock Street, Bath, BA1 2LW, United Kingdom



Tel: +44 (0) 1225 470000  E-mail: robert.huntley@publitek.com

Fax:  +44 (0) 1225 470047  Web: www.publitek.com



About Murata

Murata is a leading manufacturer of electronic components, modules, and devices. The complete range of this Ceramics Technology house includes ceramic capacitors, resistors/thermistors, inductors/chokes, ceramic resonators, buzzers, sensors and EMI suppression filters. Whilst the company gets 40% of its revenue from its ceramic capacitor products, it is also the world leader in Bluetooth WiFi Modules, and a key manufacturer of power supplies. Murata also designs and manufactures mobile handset antenna families, piezoelectric actuators for fuel injection systems, short focal length ceramic lenses and speaker products.



Established in 1944, Murata is headquartered in Japan and has European offices in Germany, the Netherlands, the UK, Switzerland, Italy, France, Spain, Denmark, Sweden, Finland and Hungary.



For more information on Murata, please visit: www.murata.eu. You can also follow us on Twitter @MurataEurope or LinkedIn www.linkedin.com/company/murata-electronics, or join us on Facebook at http://www.facebook.com/MurataElectronics.

More from Software