SMARTouch™ Controller features interactive touch screen.
Press Release Summary: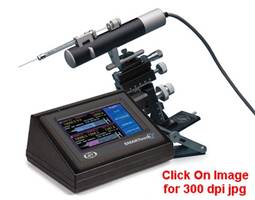 Featuring automatic pump detection and Pause/Resume options, SMARTouch™ Controller can be set to automatically adjust microstepping based on injection rate. Providing graphical indication of the flow, dual pump display and percentage display of volume in the syringe, product is compatible with UMP models. Unit comes with software for setting the limits and two independently controlled UltraMicroPumps.
---
Original Press Release:
NEW SMARTouch™
World Precision Instruments (WPI) has announced the NEW SMARTouch™ controller for use with up to two independently controlled UltraMicroPumps (UMP3).
The new SMARTouch™ with UltraMicroPump 3 is the next generation of syringe pumps. It features Patent Pending technology which includes:
Total system calibration – Calibrate the syringe and the controller together as a system. This feature eliminates the variability of the syringes and delivers the calibrated volume.
Smart Smoothness – the controller can be set to automatically adjust microstepping according to the injection rate to deliver the smoothest flow.
User Defined travel limits – set the limits for a specific syringe in the software. This prevents the pump from over-driving the plunger into the syringe potentially causing syringe breakage.
In addition, the system features all the functionality of the previous Micro4 analog controller, plus:
All operations controlled through interactive touch screen.
Graphical indication of the flow and the volume in the syringe.
Automatic end stop detection dependent on volume.
Dual pump display – run two pumps independently from one controller
Automatic pump detection.
Pause / Resume feature allows dosing during infusion/withdrawal. Volume accumulated will be displayed.
Visually displays the % volume left in the syringe.
Fully compatible with all earlier versions of the UMP modules.
For complete information on the SMARTouch™, go to www.wpiinc.com/smartouch
World Precision Instruments is a global laboratory product manufacturer with 50 years of design and manufacturing experience.
For additional information on the complete WPI product line, please visit WPI's website at www.wpiinc.com or contact Mike Pizza at mikep@wpiinc.com.
World Precision Instruments
175 Sarasota Center Blvd
Sarasota, FL 34240 USA
Phone: 1-941-371-1003
Email: mikep@wpiinc.com
Website: www.wpiinc.com.
More from Communication Systems & Equipment