SmartNode 5500 eSBCs are equipped with WAN-access ports.
Press Release Summary: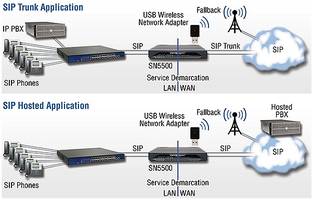 SmartNode 5500 Enterprise Session Border Controllers come with built-in local SIP registrar that allows self learning of session-data for SIP endpoint devices. Unit's WAN-access points offer redundant wired or wireless network connections and features TLS/SRTP encryption for voice and signaling data. SmartNode 5500 supports SIPv2, SIPv2 over TLS, T.38 and G.722 HD voice protocols and provides CODEC transcoding for up to 16 concurrent calls for optimization of remote and branch-office calls.
---
Original Press Release:
Patton's Highly-Survivable eSBCs Now Support 200 Simultaneous SIP Sessions
Now, with SmartNode 5500 eSBC, organizations with up to 2000 employees can comfortably migrate to All-IP with redundant trunks, automated local registration, and system survivability.
SmartNode™ VoIP... more than just talk!
Patton Electronics - US manufacturer of UC, cloud, and IoT enabling solutions for carrier, enterprise and industrial networks - announces the new 200-call SmartNode 5500 enterprise session border controller (eSBC).
With the SN5500, Patton has more than tripled the SIP-to-SIP calling capacity of the popular SN5300 eSBC.
The new eSBC aligns squarely with the VoIP calling requirements of organizations that employ over 600 and up to 2,000 people and require secure and reliable connectivity to a SIP-trunk or hosted-PBX service.
The SN5500 is equipped with WAN-access ports that enable redundant wired or wireless network connections that ensure business continuity by providing IP-link failover for system survivability.
With a built-in local SIP registrar, the SmartNode self-learns the session-control data for such SIP endpoint devices as SIP phones, softphones or unified communications (UC) clients. This intelligent eSBC feature eliminates the need for any re-configuration of the end-point, service, or network settings that would otherwise be required to maintain call control in a failover scenario.
In the event of a failure in the provider network or service chain - for any reason - the SmartNode automatically delivers traffic over an alternate path. Whenever the access network, SIP trunk, or hosted service is down, this failover mechanism sustains E-911 service and station-to-station call capability, as well as inbound and outbound calls.
The eSBC can provide CODEC transcoding for up to 16 concurrent calls, offering bandwidth management and WAN optimization for remote and branch-office calls.
TLS/SRTP encryption for voice and signaling data, as well as firewall services, means the SmartNode provides converged voice-and-data security services at the network edge. These services protect the enterprise LAN as well as the service-provider network from such security threats as snooping, hacking, toll fraud, and denial-of-service attacks.
The SN5500 delivers superior performance for reliable fax service while supporting all the essential VoIP and fax protocols, including SIPv2, SIPv2 over TLS, T.38, G.722 HD voice, RTP security with SRTP, fax and modem bypass, and DTMF relay.
Patton was recently profiled - with high marks - in the Gartner Group eSBC Market Guide, published last week https://www.patton.com/guides/gartner-esbc-market-guide.pdf.
About SmartNode™ VoIP Solutions
Award-winning SmartNode™ equipment delivers state-of-the art VoIP technology that integrates seamlessly with existing analog POTS and digital ISDN infrastructures. Proven interoperability with all major brands of softswitches and iPBXs makes it easy for carriers and enterprises to deploy future-proof VoIP systems quickly and profitably today. Tens of thousands of SmartNode™ products are up and running in enterprise networks and carrier deployments worldwide, including one of Europe's earliest first-line VoIP services.
The SmartNode™ Unified Communication Agent™ (UCA) provides any-to-any multi-path switching (simultaneous SIP, H.323, ISDN, and POTS calls with routing and conversion between TDM/PSTN and IP/Ethernet networks - plus T.38 and SuperG3 FAX) combined with dial-backup and IP-link redundancy for VoIP and data survivability. The UCA also provides VoIP-over-VPN security with encrypted voice via IPsec with AES/DES strong encryption and automated keying via Internet Key Exchange (IKE), plus SIP Registrar for presence/reach-ability.
SmartNode™ preserves all the ISDN telephony features that ISDN users depend on and network operators require (AOC, CLIP, CLIR, UD64, overlap dialing, and fax, as well as MSN and DID). Built on the industry's most interoperable VoIP platform, the SmartNode™ S-DTA supports ISDN, SIP, H.323, and MGCP/IUA signaling. Patton's SmartWare™ features touch-less auto-provisioning, high reliability, and proven interoperability with all the major-brand softswitches and IP-PBXs.
Scaling from 2 to 2048 voice calls, SmartNode™ VoIP gateways, routers, IADs, Session Border Controllers (SBCs) and SmartMedia TDM+VoIP gateways offer every industry-standard interface, including T1/E1, PRI/BRI STM-1/OC3, DS3, , FXS/FXO, V.35/X.21, Ethernet, G.SHDSL, ADSL2+, and more, while Patton's advanced DownStreamQoS™ technology delivers clear, toll-quality voice on every call. For more information about SmartNode™ equipment, go to www.patton.com/voip.
About Patton
Patton is all about connections. It is our joy and mission to connect real-world customer challenges with high-quality, right-priced solutions - complemented by unrivaled customer service and technical support. Incorporated 1984, Patton has built everything from micro-sized widgets that connect "this-with-that," to carrier-grade Telecom gear that connects subscribers to service-providers. Patton's specialty is interconnecting legacy TDM and serial systems with new-generation IP-based voice, data, and multi-media technologies.
Headquartered in Gaithersburg, MD, USA, Patton equipment - including VoIP, Ethernet extension, and wireless router technologies - is up-and-running in carrier, enterprise and industrial networks worldwide. Patton works in connection with a growing network of technology, business, and sales-channel partners. To connect with local-market requirements, Patton operates training and support centers in Switzerland, Hungary, Lebanon, India and the USA.
More from Mechanical Components and Assemblies