SmartBox Shark Tooth Fixture Box offers perfect hole cut.
Press Release Summary: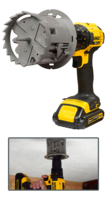 Used for installing overhead lighting, wall sconces and smoke detectors, Shark Tooth Fixture Box features piercing drill at center of blade for pinpoint accuracy. Designed with hole saw and 9/16 lug, unit provide surface mount installations, basement or attic studs using raised mounting rings. Meeting UL standards, product comes with 8/32 machine threaded holes and NM clamps and can accommodate 3/0 and 4/0 fixtures.
---
Original Press Release:
Madison Electric Products Introduces the World's First Fixture Box that Cuts its Own Hole
Continuing its tradition to bring smart solutions to market, Madison Electric Products announced today the launch of SMARTBOX SHARK TOOTH – a fixture box that actually cuts its own hole. For years electricians and contractors have been forced to rely on expensive hole saws and complicated templates when mounting round cut-in fixture boxes. The SmartBox Shark Tooth Fixture Box has a hole saw built right in to the design allowing for quick and easy installation without the need for additional costly tools or cumbersome templates. The Shark Tooth is ideal for pendant lighting, smoke detectors, wall sconces and all small fixtures.
For more information, visit http://meproducts.net/shark-tooth
The Shark Tooth Fixture box is UL listed and features a patented integrated hole saw and 9/16 lug for easy installation. The included hole saw cuts a perfect hole every time and the swing clamps make secure mounting a breeze. As with all with all SmartBox products, all 8/32 device holes are machine threaded and NM cable clamps are built right into the design.
"Our focus at Madison is bringing innovative quality products to the industry – whether they're brought to us through the Sparks Innovation Center, the industry's first crowd-sourced approach to new product development, internal engineering or through strategic partnerships," said Brad Wiandt, president of Madison Electric Products. "The Shark Tooth Fixture Box is a simple solution for an electrician's everyday work, making it a natural fit for our SmartBox product line."
Absolutely a first of its kind, Shark Tooth was designed with the electrician in mind for installing over head lighting, wall sconces and smoke detectors. A built in hole saw creates the perfect sized hole every time, while also making it easy to center-on-center mark. A piercing drill bit located at the center of the blade allows for pinpoint accuracy, requiring very little measuring and marking up the wall. Raised mounting rings with center hole are located inside the back wall of the box for surface mount installations, basement or attic studs.
Key Features:
A perfect hole cut every time
No special hole saw or template required
Location accuracy during installation
Quick and easy to install
Mounting hole spacing accommodates 3/0 and 4/0 fixtures
Supports fixtures up to 6 lbs.
Requires 9/16" driver (not included)
"We're a team of problem solvers," explained Wiandt. "At Madison, we believe it's not enough to pontificate innovation. Instead, we believe in innovation that works."
For more information on Madison's full product portfolio, visit meproducts.net.
To submit an idea for consideration through the Sparks Innovation Center, visit sparks.meproducts.net.
About Madison Electric Products
Madison Electric Products provides the electrical supply and manufacturing industries with over 2,000 products and helps inventors bring innovative electrical products to market. Founded over 80 years ago and headquartered in northeast Ohio, the company created one of the electrical industry's most relied-upon products, the Madison Hold-it. Today, it boasts a customer service-oriented coast-to-coast network of sales agents and distribution centers. For more information, visit www.MEproducts.net.
CONTACT:
Rob Fisher
Madison Electric Products
440-823-4990
Web Site: http://meproducts.net
Related