SmartBlinky Pro™ Battery Watering Monitor comes with smart sensing technology.
Press Release Summary: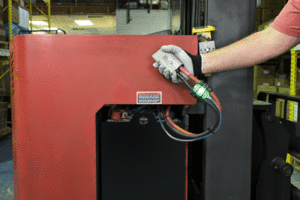 Used for monitoring electrolyte levels in battery, SmartBlinky Pro™ Battery Watering Monitor eliminates frequent checking of electrolyte levels. Featuring universal voltage and polarity for easy installation, unit comes with SmartMOUNT, SmartBEEP and SmartDELAY features. System provides audible alarm when electrolyte levels are low to alert personnel. SmartDELAY function optimizes battery filling. Product meets UL standards.
---
Original Press Release:
Philadelphia Scientific Introduces SmartBlinky Pro™, with Industry's Most Visible Electrolyte Level Indicator and Audible Alarm
The addition of SmartBEEP technology provides an additional audio dimension of electrolyte level notification.
Philadelphia Scientific, The Lean Battery Room Experts™, has introduced SmartBlinky Pro™, a battery watering monitor that features the industry's brightest electrolyte indicator and which also issues an audible alarm to alert personnel that electrolyte levels are low. SmartBlinky Pro is cable-mounted near the connector for maximum visibility – perfect for batteries that never leave the truck such as in fast and opportunity charging applications. Like the entire Blinky™ line of battery watering monitors, SmartBlinky Pro prevents the unnecessary checking of electrolyte levels and helps prevent costly permanent damage to batteries due to low electrolyte levels.
SmartBlinky Pro showcases three new Philadelphia Scientific technologies:
SmartMOUNT: The LED is quickly and easily mounted on the always visible battery cable. This is especially important for a battery that does not leave the truck.
SmartBEEP: This unique beeper adds an audible dimension to communicating the need to water and helps operators identify a battery that needs water even if SmartBlinky Pro can't be seen. The frequency of the beep indicates how many days the electrolyte has been low. Even if the LED is ignored, you will still know it needs water, and management will be alerted if maintenance is not being carried out.
SmartDELAY: Optimizes battery filling while minimizing boil over. The electrolyte level in a battery can rise and fall several times a day. With SmartDELAY, SmartBlinky Pro's LED only turns red when the electrolyte level has been low for more than 24 hours, reducing the risk of incorrect watering and reducing the filling frequency.
SmartBlinky Pro features universal voltage and polarity, so installation is simple and cannot damage the device. Patented Smart Sensing Technology eliminates false indication and maximizes watering intervals to prevent unnecessary watering or dry out. SmartBlinky Pro is rugged, built to withstand the harsh environment of industrial battery applications. And, like the other Blinkys, SmartBlinky Pro is UL Classified, so users are assured of its quality and safety.
"SmartBlinky Pro is an essential tool for fast and opportunity charging applications, in which the battery never leaves the truck" said Harold Vanasse, Philadelphia Scientific's vice president of sales and marketing. "In these applications, all other electrolyte indicators are hidden from view because they are mounted on top of the battery. SmartBlinky Pro is plainly visible because it is mounted on the cable near the connector.
"The new SmartBlinky Pro is another example of Philadelphia Scientific responding to industry changes with technologies that increase productivity and profitability."
To learn more about the Blinky family of battery watering monitors and the rest of Philadelphia Scientific's family of Lean Battery Room Management tools, visit the Philadelphia Scientific website at www.phlsci.com; call 215-616-0390; or email at info@phlsci.com.
About Philadelphia Scientific LLC
Since 1983, Montgomeryville, Pa.-based Philadelphia Scientific brings advanced technology solutions to the industrial battery industry. The company specializes in the research, design, development and manufacture of industrial battery components and tools that maximize battery performance. For more information about Philadelphia Scientific, visit the company's Web site at www.phlsci.com or contact the company at 215-616-0390.
More from Mechanical Components and Assemblies