Miscellaneous Management Systems
Smart Tooling System helps maximize factory efficiency.
Press Release Summary: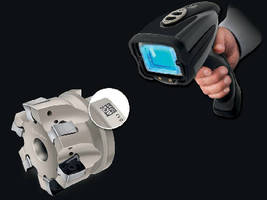 With Tool-ID System, user can transfer tool data from pre-setting devices to machine tool and evaluate parameters that are run on machine. Data is assigned to tool via identifier, such as laser-engraved data matrix code, called up using scanner, and automatically transferred to machine control unit. Tool also provides production information in form that can be read by machine. Using this information, tool life or presetting data, as well as individual production steps can be monitored/controlled.
---
Original Press Release:

Walter Tool-ID: Smart Tooling for Greater Efficiency



The Walter system which controls tooling plant-wide, saving time, boosting productivity and increasing process reliability, is a major step toward the smart factory of the future.



It's common for manufacturing companies to strive to improve their products, but precision tool specialist Walter not only strives to improve its products but the manufacturing process as well, as exemplified by its new Tool-ID system. Aimed at keeping machine downtime and processing times to a minimum, this innovative solution allows the user to transfer tool data from the pre-setting device to the machine tool, and to evaluate the parameters that are run on the machine. The data is assigned to the tool via an identifier, for example a laser-engraved data matrix code on the tool.



The data is called up using a scanner and automatically transferred to the machine control unit – meaning that time-consuming and error-prone manual data entry becomes superfluous.



It is an essential component for communication between the tool and the machine. The tool also provides production information in a form that can be read by the machine. Using this information tool life or presetting data, as well as the individual production steps can be monitored and controlled. Thanks to this comprehensive overview, it is possible to detect potential problems early on and remedy them promptly. Thanks to Tool-ID, Walter is one step closer to the vision of Industry 4.0, the smart factory of the future.



All data at the touch of a button

In the smart factory, production and operating sites are linked in such a way that all processes can be coordinated centrally and controlled automatically. Walter is currently developing a "System of Systems" in addition to Tool-ID which takes the company even closer to the smart factory. This solution allows all the accessible data within the production environment to be viewed and processed according to the user group.



"The aim of this new development is to digitize all relevant information relating to the production process and make it available for analysis and optimization," explains Holger Langhans, Director of Walter Multiply.



This universal, fully integrated "System of Systems" digitally links all production units involved in the process via a shared server. This means that the user can, for example, quickly call up and view all changes made in the machining programs. In the future, users will be able to view, combine and evaluate data at the touch of a button from a workstation, or using apps on a smartphone or tablet. This gives them a complete view of the processes in real time. Downtimes and processing times are reduced, and damage to components and equipment is minimized, all of which has a positive impact on productivity. The solution is aimed primarily at facilities that have ten or more CNC machines.



Walter, a global leader in the metalworking industry with over 90 years of experience in precision cutting tools for milling, drilling, turning, boring and specialized tools, helps customers improve process reliability and increase productivity. With Regional Headquarters in Waukesha, WI, Walter markets its competence brands Walter Valenite, Walter Titex, Walter Prototyp and Walter Multiply through a strong network of distributors and field engineers across subsidiaries in the USA, Canada, Mexico, Brazil and Argentina.



Mark Hemmerling, Director of Marketing

mark.hemmerling@walter-tools.com

800.945.5554

www.walter-tools.com/us

More from Software