Smart Low-Energy Fan/Filter Unit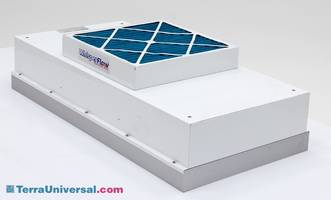 Fullerton, CA - Cleanroom personnel can automatically control air speed and balancing with Terra Universal's Smart WhisperFlow™ Fan/Filter Units. These HEPA- or ULPA-filtered blower modules feature low-energy electrically commutated motors, meeting energy-efficiency standards and saving on cleanroom operational costs. They may be equipped with sensors that allow workers to locally or remotely control air speed and flow, simplifying pressure levels and air balancing.
Targeted room pressure may be programmed into a touch screen controller to avoid adjusting the speed of each FFU manually. Additionally, comply with ISO requirements by using these controls to achieve balanced, laminar air flow, saving the time and effort of individual FFU modification. The off-hour set-back feature saves even more overhead by shifting into the pre-programmed low-energy mode when the cleanroom is not in use.
Smart WhisperFlow FFUs may be incorporated into Building Maintenance Systems, as well as help earn LEED points. Low-energy, direct-current EC fan/filter units have lower vibration levels and lower noise levels compared to alternating-current, non-EC fans. They also generate less heat, helping to ease the burden placed on air-conditional systems. Optional data logging is available.
Terra Universal has 40 years of experience manufacturing modular cleanrooms with modular environmental controls. Visit Terra Universal's website for more information about their Smart WhisperFlow Fan/Filter Unit.
Contact:
Mike Buckwalter
Terra Universal: Marketing
Phone (714) 578-6000
More from Safety & Security Equipment