Smart HMI Panels offer cloud computing ready capabilities.
Press Release Summary: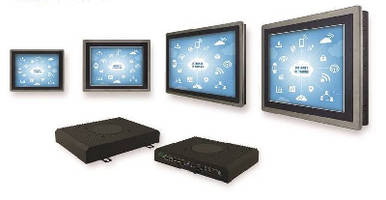 Pre-loaded with Windows 10 IoT Enterprise Technology, Smart HMI Touch Panel PCs provide automation users and OEMs with Cloud Computing Ready technology to capitalize on Internet of Things by building connected automation systems to gather, store, and analyze data. Offered in Premium, Standard, and Compact models, units support control, monitoring, and visualization applications for industrial automation, building automation, digital oilfields, smart cities, and infrastructure.
---
Original Press Release:

AIS Introduces Cloud Computing Ready Smart HMI Panels with Windows 10 IoT Enterprise Technology Enabling Industrial Internet of Things and Industry 4.0 Applications



With a Universal Windows Platform, AIS's HMI Touch Panels Connect Smart Devices with More Security, Manageability, Predictability and Enable Industrial Automation Systems Intelligence



IRVINE, CALIFORNIA – American Industrial Systems, Inc. (AIS) an innovator, designer and manufacturer of Human Machine Interface (HMI), HMI Touch Panels, Touch Screen Displays, Operator Interface Terminals, Industrial Box PCs, and Industrial Thin Clients, introduces an advanced platform of Industrial Touch Panel PCs and HMIs with "Cloud Computing Ready" capabilities now pre-loaded with Windows 10 IoT Enterprise Technology. AIS's internet-based computing HMI Touch Panels include their powerful and intelligent Premium, Standard and Compact Series.



AIS's Smart family of Industrial PCs provide automation users and OEMs "Cloud Computing Ready" HMI technology to capitalize on the Internet of Things (IoT) by building connected automation systems to gather, store and analyze an organization's data. From other intelligent devices on the edge of networks, to the factory floor, to back-end systems and cloud services, data flows through AIS's open architecture HMI touchscreens to help drive business intelligence for IoT and Cloud applications in the industrial world. Additionally, AIS's Premium, Standard and Compact Touch Panel PCs with Windows 10 IoT Enterprise support a universal Windows platform, plus a host of innovative capabilities that enable Cloud Computing, Big Data and virtualization applications



AIS's HMI Panel PC with Windows 10 IoT Enterprise for Automation Applications Provides a More Secure, Reliable and Streamlined Way to Support Critical Industry Devices

IoT stands for Internet of Things and represents a focus on universal connectivity of all devices. AIS's PC-based HMIs with Windows 10 IoT Enterprise offers the foundation for industrial applications. Windows 10 IoT Enterprise corresponds with the full version of Windows 10, plus advanced safety and locking mechanisms. As the ideal basis for HMI applications with touch screen capabilities, AIS's Smart Touch Panel PCs offer additional possibilities that increase system security. Preloaded with Windows operating systems, AIS offers industrial touch panel PCs for control, monitoring and visualization applications for industrial automation, building automation, digital oilfields, smart cities and infrastructure as well. Their HMI systems are available with Windows Embedded 8.1 Industry Professional, Windows 7 and Windows XP Professional and now Windows 10 IoT Enterprise. Packaged with Window 10, AIS's Premium, Standard and Compact series of HMI touch panels enable intelligent devices with security, manageability and businesses applications to scale across a wide range of smart devices.



AIS's Industrial Panel PCs Are Ready for Worldwide Deployment with Preinstalled Windows 10 IoT Enterprise Operating System and MUI Technology for Global HMI Solutions

AIS Premium, Standard and Compact HMIs support Windows 10 IoT Enterprise for 64-bit systems. The system is based on the full version of Windows 10, which ensures that all applications and drivers are compatible. It offers optimal touch screen support as the basis for an intuitive user interface.



Designed specifically for industrial applications, AIS's HMIs with Windows 10 IoT Enterperise offer the traditional features of embedded systems with additional lockdown functions for industry specific device scenarios that make industrial touch panels more secure and reliable. Some of the key industries and applications include:

• Industrial Automation

• Medical Devices

• Retail POS

• Digital Signage/Kiosk

• ATM

• Manufacturing

• Thin Clients

• Industry Tablets



About AIS

Headquartered in Irvine, California, USA, American Industrial Systems, Inc. (AIS) offers in-house electronic and mechanical design, software development, manufacturing, production and quality control services. Offering one of the widest ranges of industrial computing solutions, AIS open platform control and monitoring solutions are available in a multitude of configurations for industrial, building automation, food & beverage, oil & gas, military and marine applications. The company's HMI solutions are key enabling technologies for the Internet of Things (IoT), Industrial Internet of Things, (IIoT), Machine-to-Machine Communications (M2M) and Industry 4.0 applications. AIS is fully committed to empowering, improving and delivering turnkey HMI, control, monitoring and display solutions for OEM, ODM and end-user customers. AIS is an ISO 9001:2008 certified supplier and manufacturer of rugged computers and displays, and received completion of the International Traffic in Arms Regulations (ITAR) registration from the Directorate of Defense Trade Controls (DDTC). For more information, visit: www.aispro.com, email: sales@aispro.com or contact: 1-888-485-6688.



Media Relations Contact:

American Industrial Systems, Inc.

David G. Martorana

Director Marketing & Communications

1.847.630.6487 or dynmarent@gmail.com









More from Mechanical Power Transmission