Smart Card IC Modules suit low-end mobile phones.
Press Release Summary: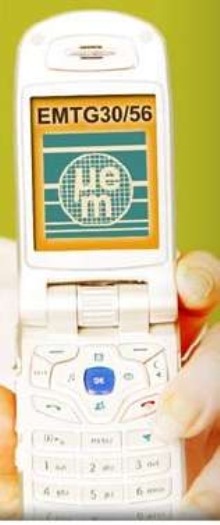 Designed for use in SIM cards for mobile phones, Models EMTG30 and EMTG56 contain 31 KB and 57 KB of flash memory, respectively. Both include 8-bit 8051 microcontroller core, internal 30 MHz tamper-proof clock, and 100% re-programmable memory architecture. For Model EMTG30, flash memory architecture is one section of 31 Kb General Purpose NVM organized in 248 pages of 128 byte, while GPNVM is organized in 448 pages of 128 byte for Model EMTG56.
---
Original Press Release:

EM Microelectronic Introduces Flexible, Low-Cost Flash Smart Card IC Module Family for Low-End Mobile Phones


Pure 31/57 KB flash memory reduces inventory and time to market

COLORADO SPRINGS, Colorado - August 2, 2005 - EM Microelectronic, an electronic systems company of the Swatch Group, announces the EMTG30 and EMTG56, a family of unique flash memory-based smart card ICs designed for use in SIM cards for low-end mobile telephony. The EMTG30/56 are compatible with the ISO7816-3 Integrated Circuit Card (smart card) specification. Memory flexibility is a key advantage of the EMTG30/56, which contains 31KB and 57KB, respectively, of pure flash memory.

"The EMTG30/56 are a low-cost, yet highly flexible smart card circuit with a 100% flash memory architecture for the entry-level mobile telephony market," explains Mougahed Darwish, president of the management board of EM Microelectronic. "The flexibility of using flash memory opens up a new field of applications, where smart cards can be truly 'smart' - allowing them to be fully reprogrammable in the field, adapting to changing applications, operating systems and user requirements. For the manufacturer, it means that one card design can be used for a wide variety of applications, and inventories of cards can be quickly personalized at low cost to meet market demands."

Secure, high-performance 8051 core
The EMTG30/56 feature a high-performance 8-bit market standard 8051 microcontroller core that is implemented in hardware, allowing it to process instructions four times faster per clock cycle than typical microcode-based 8051 core designs. An internal tamper-proof clock operates at up to 30 MHz and provides better security than designs that require an external clock. Security is also enhanced by the EMTG30/56's built-in analog, hardware-protected memory partitioning and tamper notification.

Flexible flash-based memory architecture
Most smart card ICs rely on a combination of ROM and EEPROM. In such smart cards, the operating system (OS) and main applications are permanently stored once in the ROM where they cannot be modified. Data, personal information and other applications data are stored in the EEPROM so that they can be modified. Since the ROM portion can only be programmed once, it is typically filled with as many applications as possible, leaving less memory space available for variable user data, program updates and new features. Unlike these smart cards, the EMTG30 and EMTG56 have a memory architecture that is 100% re-programmable. This provides more flexibility for the manufacturer, dealer or end user to reconfigure the operating system and applications.

The EMTG30's flash memory structure is only one section of 31 KB General Purpose NVM organized in 248 pages of 128 Byte. For the EMTG56, the GPNVM is organized in 448 pages of 128 Byte. They have a minimum guaranteed endurance of 100k cycles. This memory provides hardware-secured, tamper-proof storage for program memory and security information. Memory dedicated to application software and user data can be configured at the last minute, so smart card providers can reduce inventory, simplify logistics, reduce costs and accelerate time-to-market. The EMTG30/56's flexible memory architecture enables low cost smart cards to interoperate with equipment from different service providers and regional standards, making them ideal for banking and communications in developing countries worldwide.

Development Support
The 8051 microcontroller core is a proven, robust and widely supported architecture, allowing code re-usability and faster development. The EMTG30/56 are supported by development tools including a compiler, link editor, code and data download, and Emulation platform that is fully integrated with the Keil uVision2 development environment. EMTG30/56 flash memory is using SST SuperFlash technology.

Availability
The EMTG30/56 smart card ICs are available and shipping now from EM Microelectronic and its authorized distributors. They are available as backlapped and distressed 8-inch wafers down to 180 micrometer thickness, as sawn wafers on frame, and in packaged 6-pin module form.

More information about the new EMTG30/56 smart card modules is available at www.emmicroelectronic.com/Line.asp?IdLine=7.

About EM Microelectronic
EM Microelectronic is a semiconductor manufacturer that designs and produces ultra-low-power, low-voltage, digital, analog and mixed-signal integrated circuits for battery-operated and field-powered devices in consumer, automotive and industrial applications. The company's product portfolio includes RFID circuits, ultra-low-power microcontrollers, voltage reset IC and microcontroller supervisory IC supervisor, watchdog, regulator, smart card ICs, LCD drivers and displays, sensor and optoelectronic ICs, mixed analog and digital gate arrays and application-specific integrated circuits. EM also produces LCD modules and offers bumping services.

EM Microelectronic is one of the electronic systems companies within the Swatch Group, developing and producing ultra-low power, miniaturized and accurate microelectronic components and systems. Additional company and product information is available at www.emmicroelectronic.com.

Product datasheet for the EMTG30 is available at emmicroelectronic.com/webfiles/Product/Smartcard/EMTG30_FS.pdf

Product datasheet for the EMTG56 is available at emmicroelectronic.com/webfiles/Product/Smartcard/EMTG56_FS.pdf

More from Software