Smart Card IC features 256 kbyte of pure flash memory.
Press Release Summary: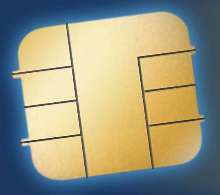 Model EMTCG256-3G is compatible with ISO7816-3 Integrated Circuit Card specification, and operates with power supplies from 5-1.8 V. It features 8-bit 8051 microcontroller core, internal tamper-proof clock that operates up to 30 MHz, and built-in analog sensors. Flash memory is partitioned into 3 sections: 128 kbyte of OTP memory and 64 kbyte of EEPROM, plus 32 x 2 kbyte blocks of flash memory. Chip is suited for use in SIM and Java cards for GSM mobile phones.
---
Original Press Release:

EM Microelectronic Announces Smart Card IC with Flash


Versatile chip is ideal for SIM and Java cards in GSM phones, features 256K of pure flash memory and high-performance 8051 microcontroller core

COLORADO SPRINGS, Colo - February 25, 2004 - EM Microelectronic, a company of the Swatch Group, announces the EMTCG256-3G, a unique flash memory-based smart card IC designed for use in SIM and Java cards for GSM mobile phones, as well as for banking, healthcare and loyalty card applications. The EMTCG256-3G is compatible with the ISO7816-3 Integrated Circuit Card (smart card) specification, and operates with power supplies from 5V down to 1.8V, making it compatible with the latest generation of ultra low power GSM cellular telephones. Memory flexibility is a key advantage of the EMTCG256-3G, which contains 256kB of pure flash memory.

"The EMTCG256-3G is the first low-cost, high performance and secure smart card with a 100% flash memory architecture for the mid-range market," explains Mougahed Darwish, president of the management board of EM Microelectronic. "This opens up a new field of applications, where smart cards can be truly 'smart' - allowing them to be fully reprogrammable in the field, adapting to changing applications, operating systems and user requirements. For the manufacturer, it means that one card design can be used for a wide variety of applications, and inventories of cards can be quickly personalized at low cost to meet market demands."

Secure, high-performance 8051 core
The EMTCG256-3G features a high-performance 8-bit market standard 8051 microcontroller core that is implemented in hardware, allowing it to process instructions four times faster per clock cycle than typical microcode-based 8051 core designs. An internal tamper-proof clock operates at up to 30 MHz and provides better security than designs that require an external clock. Security is also enhanced by the EMTCG256-3G's built-in analog sensors (frequency, voltage and temperature), triple DES encryption algorithms, hardware-protected memory partitioning and tamper notification.

Flexible flash-based memory architecture
Most smart card ICs rely on a combination of ROM and EEPROM. In these smart cards, the operating system (OS) and main applications are permanently stored once in the ROM where they cannot be modified. Data, personal information and other applications data are stored in the EEPROM so that they can be modified. Since the ROM portion can only be programmed once, it is typically filled with as many applications as possible, leaving less memory space available for variable user data, program updates and new features. Unlike these smart cards, the EMTCG256-3G has a memory architecture that is 100% re-programmable. This provides more flexibility for the manufacturer, dealer or end user to reconfigure the operating system and applications.

The EMTCG256-3G's flash memory is partitioned into three sections: 128kB of one-time-programmable (OTP) memory and 64kB of EEPROM (with minimum 300k cycles endurance), plus 32 × 2kB blocks of flash memory. The 128kB OTP memory partition provides hardware-secured, tamper-proof storage for program memory and security information. The 32 × 2kB blocks of flash memory can be assigned for either data or code space in a flexible range from 0kB to 64kB in 2kB increments, allowing fine-tuning of the final product to meet customer needs. For example, memory dedicated to application software and user data can be changed at any time, so smart card providers can reduce inventory, simplify logistics, reduce costs and accelerate time-to-market. The EMTCG256-3G's flexible memory architecture enables Java-based smart cards to interoperate with equipment from different service providers and regional standards, making them ideal for banking and communications in developing countries worldwide.

Development Support
The 8051 is a proven, robust and widely supported architecture, allowing code re-usability and faster development. The EMTCG256-3G is supported by development tools including a Compiler, Link Editor, OTP and EEPROM Download, and Emulation platform that is fully integrated with the Keil uVision2 development environment.

Availability
The EMTCG256-3G smart card IC is available and shipping now from EM Microelectronic and its authorized distributors. It is available as backlapped and de-stressed 8-inch wafers down to 180 micrometer thickness, as sawn wafers on frame, and in packaged module form. Consult factory for pricing information. More information about the new EMTCG256-3G smart card module is available at www.emmicroelectronic.com/Products.asp?IdProduct=182.

About EM Microelectronic
EM Microelectronic is a semiconductor manufacturer designing and producing ultra low power, low voltage, digital, analog and mixed-signal integrated circuits (ICs) for battery-operated and field-powered devices in consumer, automotive and industrial applications.

RFID chips feature read/write, anti-collision, 125kHz, 13.56MHz, UHF and 2.45GHz operation for applications in security and access control, animal ID, logistics and immobilization in automotive. Other products include microprocessor supervisors and reset ICs, microcontrollers, smart card ICs, mixed analog and digital gate arrays, ASICs, LCD drivers and displays and optoelectronic ICs. EM also produces (LCD) modules and offers bumping services. EM Microelectronic was founded in 1975 with headquarters in Marin (Neuchatel), Switzerland. It is a company of The Swatch Group Ltd., the world's largest manufacturer of finished watches. Additional company and product information is available at www.emmicroelectronic.com.

Product datasheets for the EMTCG256-3G is available at http://emmicroelectronic.com/webfiles/Product/Smartcard/EMTCG256_FS.pdf

Please send business inquiries to:
North America Marketing Communications Department, EM Microelectronic-US, 5475 Mark Dabling Blvd. Suite 200, Colorado Springs, CO 80918, or info@emmicroelectronic.com

More from Machinery & Machining Tools