Small RFID-UHF Label is designed for on-metal applications.
Press Release Summary: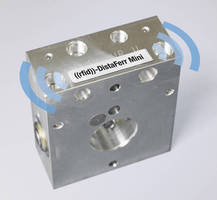 With performance enabling acceptable reading ranges even on narrow components or housings for RFID on-metal applications, 10 x 50 x 1.7 mm ((rfid))-DistaFerr Mini allows automated transmission of production-specific data to UHF-RFID reader integrated in machine. Reading range is up to 1 m, and user can program and print label individually on-site with thermal transfer printer. Product can be used as service label or for intelligent communication medium between product and machine.
---
Original Press Release:

Schreiner LogiData Develops Extremely Small RFID Label for On-Metal Applications



Thanks to UHF technology, the ((rfid))-DistaFerr Mini's exceptional performance enables acceptable reading ranges even on narrow components or housings.



Schreiner LogiData presents its new, extremely small RFID-UHF label for metal substrates: ((rfid))-DistaFerr Mini. The innovative product enables the reliable communication of even the smallest components and objects. This is especially important in asset management, for product labeling and as part of smart factory concepts. The label has a reading range of up to one meter, thus offering ten times better performance than standard HF solutions.



Measuring just 10 mm x 50 mm x 1.7 mm, Schreiner LogiData's new ((rfid))-DistaFerr label is currently the smallest UHF RFID label version offered for RFID on-metal applications by Schreiner Group's Competence Center. The label is only half as wide as the ((rfid))-DistaFerr SL label (22.5 mm x 52 mm x 1.7 mm), which also adheres to metal. "At present, there isn't a smaller UHF-RFID label for on-metal applications anywhere else in the world," explains Frank Linti, Business Development Manager RFID at Schreiner LogiData.



Thanks to UHF technology, the ((rfid))-DistaFerr Mini's exceptional performance enables acceptable reading ranges even on narrow components or housings. Users can program and print the label individually on-site with a thermal transfer printer. The solution allows automated transmission of production-specific data to a UHF-RFID reader integrated in a machine. ((rfid))-DistaFerr Mini is thus ideal for use as a service label or intelligent communication medium between product and machine.



Solutions for the communication between machine and material, as already realized on HF-RFID basis with maximum reading ranges of five to ten centimeters, are now also available on UHF basis with ranges of up to one meter. Customers can use the DistaFerr Mini label's communication capacities for optimally monitoring material consumption and for improving anti-counterfeit protection directly at the place of application.



In the fields of asset management and inventory management of objects, the ((rfid))-DistaFerr Mini label is suitable for applications on non-metal objects, housings or components, which offer only limited space for an RFID label but require clear identification with a hand scanner.



Media contact

Susanne Höppner

Schreiner Group GmbH & Co. KG

Bruckmannring 22

85764 Oberschleißheim

Tel. +49 89 31584-5852

Fax +49 89 31584-5420

susanne.hoeppner@schreiner-group.com



For further information, contact:

Schreiner LogiData, ein Competence Center

der Schreiner Group GmbH & Co. KG

Bruckmannring 22

85764 Oberschleißheim

Tel.: +49 89 31584-4140

Fax: +49 89 31584-4109

rfid@schreiner-logidata.com

More from Laboratory and Research Supplies and Equipment