Small Angle Grinders feature kickback protection.
Press Release Summary: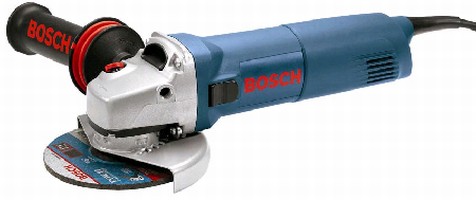 Equipped with Electronic Kickback Protection, 5 in. Model 1803EVS and 6 in. Model 1806E are designed to shut off if wheel gets in bind situation. If slide switch is in ON position while unplugged or power source is interrupted, restart protection keeps tool shut off until user actively switches grinder OFF and back ON again. Model 1803EVS offers variable speed capability of 2,800-11,000 rpm, while Model 1806E provides speeds of 9,300 rpm at 12 A.
---
Original Press Release:
Bosch Introduces Industry's First Electronic Kickback Protection For Grinders in Cutoff Applications
Mount Prospect, Ill., December 4, 2006 - Two new upgraded small angle grinders from Bosch Power Tools and Accessories - 5-inch 1803EVS and 6-inch 1806E - feature the industry's first Electronic Kickback Protection technology, which shuts the tool off should the wheel get in a bind situation. Furthermore, Bosch also added Restart Protection, a feature designed to prevent grinders left in the "on" position from catching users by surprise when the power supply is interrupted. From metal working to concrete & masonry, from cut-off to grinding and finishing applications, professionals are more confident with innovative, powerful and long-lasting Bosch grinders. Bosch Electronic Kickback Protection provides users with enhanced confidence without sacrificing grinding efficiency and productivity. Innovative electronics monitor the tool for a rapid slow down in RPM, for example, a wheel binding in material. In this condition, the electronics would shut the tool off, minimizing the effect of the tool kicking out and back towards the user. Once the user regains control of the grinder, they should inspect the wheel for damage. If none is found, they would simply turn the switch to "off" and then back "on" to return to work. Other competitive solutions, such as mechanical clutches, allow the wheel to slip as a way to reduce kickback situations. However, the users still need to regain control while the tool is running at capacity. Additionally, in heavy grinding applications, the clutch can inadvertently engage; thus lowering grinding productivity when material removal needs to be maximized. Restart Protection provides professional users with one less worry in the busy shop and jobsite environment. In the event the slide switch of either the 1803EVS or 1806E is slid into the "on" position while unplugged or the power source is interrupted while in use, the tool will remain shut off until the user actively switches the grinder "off" and then back "on" again. Restart Protection prevents the startling effects of an unexpected grinder activation, as well as prevents grinders from skating across the floor causing damage to the tool or injury to those nearby. The 5-inch 1803EVS small angle grinder replaces the previous generation 1703EVS model. The variable speed capability (2,800-11,000 RPM) of the 1803EVS enables stone masons, tuck pointers and even metal workers to take control of their work. The 6-inch 1806E small angle grinder replaces the previous generation 1706E model. At 12 AMP and 9300 RPM, the 1806E is the perfect all around grinder for mechanical contractors, fabrication shops, road construction crews and even general contractors who need more power for heavy duty applications and 6-inch wheels to maximize depth of cut and grinding productivity. Combined with the new Electronic Kickback and Restart Protection, Bosch continues its position as the world's leading grinder manufacturer. About Bosch Power Tools and Accessories: Bosch Power Tools and Accessories is one of the divisions within the $1 billion, 4,000 employee strong Robert Bosch Tool Corporation, which is the North American branch of the largest power tool and accessory manufacturer in the world, Robert Bosch GmbH. Bosch provides a complete line of corded and cordless power tools and accessories engineered to survive any jobsite and allow professionals to take control of their work. For more information, call toll free 877-BOSCH-99 (877-267-2499) or visit www.boschtools.com. About Bosch North America: In North America, the Bosch Group manufactures and markets power tools and accessories, automotive original equipment and aftermarket products, industrial automation and mobile products, security technology, thermo-technology, packaging equipment and household appliances. Bosch employs 22,700 associates in more than 80 primary and 20 associated facilities throughout the region with reported sales of $8.4 billion in 2005. This year marks Bosch's 100th year of operating in the U.S. For more information on the company and the Centennial, visit www.bosch.us.
More from Computer Hardware & Peripherals