SLPL Spring-Driven Reels come with swept riser design.
Press Release Summary: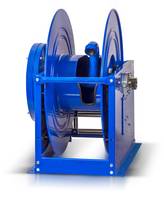 Enhanced with nickel-plated steel inline swivel, SLPL Spring-Driven Reels' axle plumbing is available in both standard carbon steel and optional stainless steel models. Increasing the pressure rating from 250 psi to 1500 psi, unit's nickel plated inline swivel comes with Coxreels® multi-lobe seals. Product feature less restrictive flow patch compared to 90° swivel.
---
Original Press Release:
Coxreels® Introduces a Product Enhancement for the 1¼ - Inch and 1½ - Inch SLPL Spring-Driven Models
Entering into their 10th decade under the 3rd generation of family ownership and operation, Coxreels® is proud to manufacture the industry's highest quality and widest variety of hose, cord, and cable reels. They recognize USA made, USA quality, and USA support as critical components to delivering incomparable product value. These founding principles are displayed and reflected in each model and every part of the Coxreels® product line. Their advanced engineering and manufacturing processes make extensive use of in-house design, CNC machinery with robotic welding and robotic spin cell operations, and modern automation systems that allow them to develop and build state-of-the-art reeling platform solutions that meet the most demanding requirements in the industry.
Coxreels® introduced a product enhancement to the spring-driven 1¼-inch and 1½-inch SLPL models. Prior to this update, these models of the SLPL came standard with Coxreels' aluminum inline swivel. Optional on all of these models was the outsourced 90° swivel. For customers needing a stainless steel fluid path, the outsourced 90° stainless steel swivel was the only option.
Coxreels® eliminated the aluminum inline swivel on five SLPL models (725, 750, 825, 835, and 850) and incorporated a nickel-plated steel inline swivel (from the 1185-Series). This swivel increases the pressure rating of the inline plumbing from 250psi to 1500psi. The nickel plated steel is also far more rugged and durable than the aluminum swivel that it replaces. The new swivel includes Coxreels® multi-lobe seals for much improved leak integrity.
The new inline swivel is also available in stainless steel, which gives customers a choice with their stainless steel fluid path requirements. The stainless steel inline swivel fluid path is considerably more cost-effective than the 90° swivel stainless steel fluid path. The inline swivel also boasts a more efficient, less restrictive flow path than the 90° swivel.
The axle plumbing in both standard carbon steel models and optional stainless steel models was upgraded as well. The 135° elbow on the axle riser has been replaced with the Coxreels® swept riser design (also from the 1185-Series). The swept riser design offers a less restrictive flow path for improved flow efficiency.
Coxreels® has remained steadfast and focused on manufacturing high quality, industrial grade hose, cord, and cable reels with leading industry innovation since 1923. Offering a full product line serving the industry in every channel and application, Coxreels® takes great pride in designing, building, and supporting each and every product made exclusively in the U.S.A.
For further information on Coxreels® SLPL spring-driven models, contact Customer Service at (800) 269-7335 or visit www.coxreels.com.
About Coxreels®
Manufacturer of hose, cord, and cable reels. Types of reels include spring driven, hand crank, and motor driven reels. Reel accessories including nitrile and EPDM hoses, inlet and twin welding assemblies, elbows, fittings, reducers, hose stops and guards, hose kits, lock pins, gear guards, welding cable clamps, switches, control valves, relays, junction and switch boxes, circuit breakers, electric motor variable speed controllers, drag brakes, hose guides and roller brackets are also available. Hose, cord, and cable reels and accessories are suitable for industrial, automotive, agricultural, and petroleum applications. 2-year warranty. Made in USA.
Contact:
Keen Delacruz
Marketing Coordinator
COXREELS
5865 South Ash Avenue
Tempe, AZ 85283
Phone: 480-820-6396
Email: kdelacruz@coxreels.com
More from Fluid & Gas Flow Equipment