Slip Ring Assemblies support power up to 50 A and beyond.
Press Release Summary: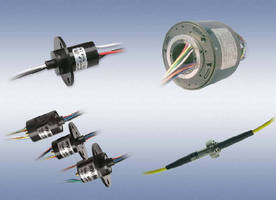 Intended for machine builders and OEMs, Slip Ring Assemblies and Rotary Joints support rotary-to-stationary transmission of electrical signals, video signals, and field buses. Precision devices include long-life gold and other precious alloy rings and brushes, with up to 96 circuits in standard designs that span miniature capsule units and large diameter packaged designs – some with through holes. Fiber-optic rotary joints are also available.
---
Original Press Release:

New Slip Ring Assembly Range Expands Motion System Capability



• New range of precision slip ring assemblies expand capability for in-house customised motion system design and build



Slinfold, UK – Further extending its motion components and systems capability, HeasonTechnology has added a new range of precision slip ring assemblies and rotary joints to its extensive product portfolio. The range includes complete assemblies for rotary-to-stationary transmission of electrical signals, video signals, field buses etc. and power up to 50A and beyond. These precision devices include long-life gold and other precious alloy rings and brushes, with up to 96 circuits in standard designs that span miniature capsule units and large diameter packaged designs - some with through holes. Also available are fibre-optic rotary joints. Furthermore, as part of its extensive custom design service, Heason is able to combine these various technologies in customised packaged assemblies as well as design-in features such as environmental protection for hostile environments or special interfacing. The complete range is characterised by high reliability, long working life, smooth operation with low friction torque, and with competitive cost and excellent value.



As a complementary component type which is regularly required in Heason's custom designed motion systems, slip ring assemblies and rotary joints are a logical addition and will be of interest to machine builders and OEMs alike; where the benefits of a single sourcing complete assemblies is extended into related areas of mechatronics - beyond gearboxes, actuators and positioning mechanics – all of which Heason Technology currently offers. For example, where through aperture rotary servo and torque motors are designed into systems requiring the feed through of electrical and/or optical services from stationary to rotating platforms; which is a common requirement in many application areas from robotics and packaging machinery to laser machining and medical scanning equipment.



Heason Technology supplies through-hole and large aperture direct-drive servo motors from two of its select distribution partners – Kollmorgen and Emoteq. In addition zero backlash gear unit solutions for high torque/through aperture applications are available from Spinea. 



Slip ring assemblies are also widely used where the rotary transmission is not directly servo motor driven for applications that include but are not limited to converting machinery, wind turbines, machine tools and many special purpose machines. For these applications, Heason can call upon its extensive experience for custom designed, assembled and fully tested system solutions for precision motion.



About Heason Technology

Heason Technology represents a select number of leading global manufacturing partners, providing a comprehensive range of first-class motion control components that are combined with a full in-house design and build service for complete motion system solutions.



For company and technical information, please contact:

Jon Howard

Heason Technology Limited

Motion Solutions Centre

Spring Copse Business Park

Slinfold, West Sussex

RH13 0SZ, UK

Tel: +44 (0)1403 755800

Fax: +44 (0)1403 755810

Email:  jhoward@heason.com

Web:  www.heason.com 

More from Material Handling & Storage