Sliding Compound Miter Saws measure 8½ in.
Press Release Summary: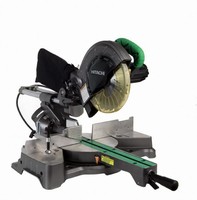 Powered by 9.5 A motors and featuring no-load speed of 5,500 rpm, Models C8FSE and C8FSHE slide compound miter saws weigh 31 and 32 lb, respectively. With bevel range of 48° to left and 5° to right for precise compound cuts, they feature thumb-actuated positive stops to adjust miter angles of 15, 22.5, 31.6, and 45° to both left and right. Portable units can handle materials up to 2 9/16 in. high, such as crown molding lying flat and 12 in. deep in 90° cross cut.
---
Original Press Release:

Two New Sliding Compound Miter Saws Mark 20th Anniversary of Hitachi's Original



09.03.2008

NORCROSS, GA- Hitachi Power Tools today announced two new 8½-inch slide compound miter saws, the C8FSE and C8FSHE. Twenty years after developing the first sliding compound miter saw, Hitachi continues the tradition of innovation with quality engineering along with additional features of today, such as the LED work light and laser guide featured on the C8FSHE. Built with accuracy, power and convenience packed into the two lightest saws in their class, these are the perfect fit for contractors, trim carpenters and fine woodworkers alike.

Twenty years ago, the benefits of the radial arm saw and the miter saw were combined in the first sliding compound miter saw, Hitachi's C8FB. A standard miter saw is accurate and portable, but the length of a cross cut is limited by the size of the blade. A radial arm saw has a large cutting capacity and is versatile in its applications, but the weight and space it demands makes that tool a permanent, immovable fixture.

In 1988, Hitachi's engineers took the best features of both tools to create the original and revolutionary sliding compound miter saw. Like a radial arm saw, dual rails allow the power head to slide forward and back for increased cutting capacity. At the same time, the innovative frame retains the accurate bevels and miters of a miter saw with its tighter tolerances, added safety, and portability.

When using a miter saw on-site, trouble-free mobility is a must. At 31lbs (C8FSE) and 32lbs (C8FSHE), these are the lightest in their class, making them the most portable 8½" slide miter saws on the market. Both the C8FSE and C8FSHE are powered by 9.5Amp motors and have a no-load speed of 5,500RPM to smoothly handle the toughest cutting applications.

These saws can stand up to job-site travel and tough high-volume tasks, while retaining the accuracy suitable for fine woodworking and finish work. Hitachi's thumb-actuated positive stops allow for quick adjustments to the most common miter angles- 15°, 22.5°, 31.6°, and 45° to both the left and right. A bevel range of 48° to the left and 5° to the right allow for precise compound cuts. A pivoting section extends the length of the fence and a large table provides a stable guide and sturdy support. Materials are held firmly in place with a table-mounted clamp for efficiency, accuracy and safety.

These saws can handle materials up to 2-9/16-inches high, such as crown molding lying flat, and 12 inches deep in a 90° cross cut. Both saws are loaded with features for user convenience, including the best-in-class dust collection system for a cleaner workspace. The vertical handle is covered in Hitachi's vibration absorbing elastomer for a secure and comfortable grip surface. A splinter guard behind the fence reduces tear-out for clean, finished cuts and easily accessible carbon brushes will help your saw perform for years to come.

HITACHI POWER TOOLS U.S.A.

Hitachi Power Tools (Hitachi Koki USA, Ltd) offers an extensive line of professional grade power tools and accessories for woodworking, metalworking, drilling and fastening, concrete drilling and cutting as well as a complete line of pneumatic nailers, staplers, compressors and collated fasteners. From headquarters in Atlanta, GA, and satellite offi ces in the United States and Canada, Hitachi Power Tools supports nearly 2000 retail locations carrying Hitachi tools and over 1000 authorized service centers.

Hitachi Koki USA, Ltd. is the North American division of Hitachi Koki Japan, a subsidiary within the over $112 billion, 390,000 employee Hitachi Ltd of Japan. Using world class standards of development and production with a priority of social and environmental sustainability, Hitachi produces countless products and services. From home electronics to social infrastructure, materials, logistics, and services, Hitachi can be found throughout the world breathing life into the next era.

Contact:
Dena Wade
770-925-1774 x215
denaw@hitachi-powertools.com
www.hitachipowertools.com

Hitachi Koki USA Ltd.
+ 1 800 829 4752
www.hitachipowertools.com