Slide Rails can be bracket-mounted on horizontal members.
Press Release Summary: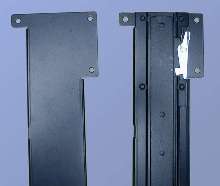 Chassis/cabinet-mounted slide rails are available in standard and rugged versions. They are offered with locking and non-locking options, withstand shock and vibration in harsh environments, are 10 mm thick, and handle up to 220 lb. Locking-versions include quick-release levers and self-release versions for unlocking. Slide rails come in 3 sections: outer-mounting bracket to cabinet, inner-mounting bracket to chassis, and center-sliding member.
---
Original Press Release:

Elma Offers Bracket-Mount Slide Rails for Cabinets/Enclosures


FREMONT, California, Aug. 27, 2003 - Elma Electronic Inc., a global manufacturer of electronic packaging products has expanded their chassis/cabinet mounted slide rail line with new standard and rugged bracket-mount versions. These rails are used in applications where panel mounting on the vertical members of the cabinet is not desirable. Instead, the slide rails can be bracket-mounted on the horizontal members or cabinet walls.

Elma's slide rails come in standard and rugged versions, with locking and non-locking options. The locking-versions have two methods for unlocking when in the fully extended position. Quick-release levers allow manual unlocking and a self-release version unlocks when the chassis is pushed back into the cabinet. Elma's slide rails are designed to hold significant weight and can withstand shock and vibration in harsh environments. The ultra-rugged line has a robust 10mm thickness, specially designed to handle up to 220 lbs.

The slide rails come in three sections: an outer-mounting bracket to the cabinet, an inner-mounting bracket to the chassis, and a center-sliding member. They can also securely lock in the fully extended position for foolproof stopping when pulling out the chassis. A quick-disconnect feature with levers then allows the chassis to be removed from the cabinet with ease.

Elma's Slide Rails can be purchased separately and/or with the company's extensive line of Rugged COTS enclosures and cabinets.

Pricing starts under $ 200.00 with a stock to 3 week lead time.

About Elma Electronic

Elma Electronic Inc. is a leading manufacturer and supplier of enclosures, backplanes, cabinets, cases, and "ready-to-run" packaging for CPCI, Rugged COTS, VME/64x, VXI, PC and custom bus structures. Elma's component product line offers a wide selection of top quality switches knobs and LED arrays. The company has been a worldwide supplier of dependable, high performance products for over 40 years. Elma operates three facilities in the continental United States plus has locations in Switzerland, Germany, France, the United Kingdom and Israel.

Elma Electronic Inc. is located at 44350 Grimmer Blvd., Fremont, CA 94538 USA. Telephone (510) 656-3400 - Fax (510)656-3783. www.elma.com

The technical contact is Troy Lauritsen at 510-656-3400 x227 troyl@elma.com We do not have an 800#.

Justin Moll
Marketing Manager, Bustronic
Manager of PR, Elma Americas
510-490-7388 x516
www.bustronic.com

More from Cleaning Products & Equipment