Slide Hammer facilitates maintenance of heavy equipment.
Press Release Summary: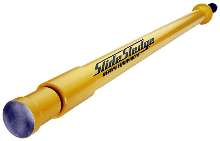 Slide Sledge Heavy Equipment Hammer incorporates steel chamber with fatigue-proof drive bar that slides inside cylinder with linear, contained motion for precise, maximum impact. Using fingertip pressure, one person can use tool to deliver impact equivalent to 21 lb sledgehammer in order to drive out pins. Optional 5 lb handle weight provides up to 26 lb of sledgehammer power. Application-specific tips are available.
---
Original Press Release:
New Slide Sledge Tool Provides Faster, Safer Maintenance of Heavy Equipment, Eliminates Reduces Catastrophic Downtime
HOFFMAN ESTATES, Illinois - Slide Sledge, LLC introduces the new Slide Sledge Heavy Equipment hammer for safer, faster and more cost-effective maintenance of heavy equipment. The Slide Sledge tool provides powerful accuracy delivers a powerful impact for quick, easy repairs, eliminating greatly reducing potentially catastrophic downtime. Inside the Slide- Sledge Heavy Equipment hammer, a chamber of steel contains a fatigue-proof drive bar. The mechanism slides inside its cylinder with a linear, contained motion for precise, maximum impact. Using fingertip pressure, one person can operate the Slide Sledge tool to deliver the impact of up to a 21-pound sledgehammer and drive out pins easily. An optional 5-pound handle weight provides up to 26 pounds of sledgehammer power. The Slide Sledge Heavy Equipment hammer delivers a smooth, targeted blow, significantly reducing effort and risks associated with the conventional sledgehammer-chisel combination, including: · Threat of injury to the person holding the chisel · Damage to the machinery · Sledgehammer "bounce back" · Danger to people nearby from flying material · Lost worker hours and costs of employee injuries, sore muscles and cramps A wide selection of application-specific tips can be used with the Slide Sledge tool for precision repairs and change-outs, including: · Pin drivers in six sizes to allow removal and installation of pins on virtually any equipment. The 3-in. pin driver removes and installs the largest pins. · A curved chisel tip made from specially engineered shock-resistant steel to replaces cut through most stripped out, rusted bolts in seconds. · Ripper tooth pin inserters and removers to get between ripper teeth and insert or remove pins with a linear impact. Ripper tooth pin inserters and removers are available in a variety of sizes. is specially designed to provide directional control with the power of linear motion. Simply turn the tool and the tips turn. · Break that bead tips allow easy removal of tires from rims.Race/bearing/seal adapters to Simply press a bearing into place, insert a race and drive home a seal quickly and easily. · Bushing driver s adapters to line up and drive the bushing, rather than to swing a hammer at a conventional bushing driver. eliminate the need for swinging hammers by lining up the bushing where needed. · Ball joint splitters and tie rod separator tips, available in four sizes, wedged to apply maximum force with ease. The separator forks smoothly thread onto the adapter for fast, easy change-outs. · A scarifier tooth tip to remove scarifier teeth easily with a specialized tip design that allows direct, linear force. The Slide Sledge Heavy Equipment hammer and its specialized, easy-switch tips can perform virtually any heavy equipment repair job. The safer, more efficient Slide Sledge tool decreases repair turnaround time, reduces catastrophic downtime and eliminates the risks associated with the sledgehammer-chisel combination. Slide Sledge, LLC, headquartered in Hoffman Estates, Illinois, is a manufacturer of tools for the heavy construction, mining and automotive industries. For more information, contact Slide Sledge at 800/276-0311, e-mail sales@slidesledge.com or visit www.slidesledge.com.
More from Electronic Components & Devices