SLC NAND Flash Memory improves system security.
Press Release Summary: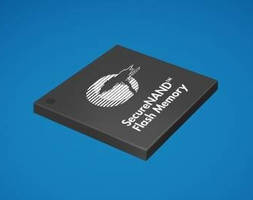 Offered in 63-ball grid array (BGA) package, SecureNAND™ S34SL01G2 (1Gb), S34SL02G2 (2Gb), and S34SL04G2 (4Gb) are Single-Level Cell (SLC) NAND Flash products that improve security by providing single nonvolatile memory with integrated block protection features. Each device offers ability to configure entire device with nonvolatile block protection to store protected boot code, system firmware, and applications, while provision for 100,000 program/erase cycles ensures 5+ years of system life.
---
Original Press Release:

New Cypress SLC NAND Flash Memory Family Reduces System Costs and Improves System Security



High-Endurance 1Gb-to-4Gb SecureNAND™ Devices Integrate the Security Features of a NOR Flash Memory to Protect Boot Code, System Firmware and Applications in High-Security Systems



SAN JOSE, Calif. – Cypress Semiconductor Corp. (Nasdaq: CY), a global leader in embedded systems solutions, today introduced a Single-Level Cell (SLC) NAND Flash family for high-security applications. Designers of high-security applications have been using a NOR Flash memory with block protection for boot code storage and a commodity SLC NAND Flash memory for system firmware and application storage. The new Cypress SecureNAND™ family of devices reduces system costs and improves system security by providing a single nonvolatile memory with integrated block protection features for set-top boxes, point-of-sale systems, wearables and other high-security applications.



The Cypress SecureNAND family includes 1Gb, 2Gb and 4Gb devices, all of which offer the ability to configure the entire device with nonvolatile block protection to store protected boot code, system firmware and applications. These products provide 100,000 program/erase cycles to ensure more than five years of system life. The devices have an operating voltage range of 2.7 V to 3.6 V and support the industrial temperature range of -40°C to +85°C.



"End users are becoming more concerned with the security of the products they buy, and manufacturers are responding by seeking an SLC NAND Flash memory with enhanced security features," said Touhidur Raza, Director of the NAND Flash Product Family at Cypress. "The SecureNAND family addresses this market need while reducing systems costs, and it comes with the backing of Cypress as an established high-quality SLC NAND supplier."



Availability

Cypress's 1Gb S34SL01G2, 2Gb S34SL02G2 and 4Gb S34SL04G2 SecureNAND devices are sampling now with production expected in the fourth quarter of 2015. The devices are available in a 63-ball grid array (BGA) package.



Follow Cypress Online

--  Read our Core & Code technical magazine and blog.

--  Join the Cypress Developer Community.

--  Follow @CypressSemi on Twitter.

--  Visit us on Facebook and LinkedIn.

--  Watch Cypress videos on our Video Library or YouTube.



About Cypress

Cypress (NASDAQ: CY) delivers high-performance, high-quality solutions at the heart of today's most advanced embedded systems, from automotive, industrial and networking platforms to highly interactive consumer and mobile devices. With a broad, differentiated product portfolio that includes NOR flash memories, F-RAM™ and SRAM, Traveo™ microcontrollers, the industry's only PSoC® programmable system-on-chip solutions, analog and PMIC Power Management ICs, CapSense® capacitive touch-sensing controllers, and Wireless BLE Bluetooth Low-Energy and USB connectivity solutions, Cypress is committed to providing its customers worldwide with consistent innovation, best-in-class support and exceptional system value. To learn more, go to www.cypress.com.



Cypress, the Cypress logo, PSoC and CapSense are registered trademarks and SecureNAND, F-RAM and Traveo are trademarks of Cypress Semiconductor Corp. All other trademarks are property of their owners.



CONTACT:

Samer Bahou

Cypress PR

(408) 232-4552

samer.bahou@cypress.com



Web Site: http://www.cypress.com