Slab Former features flexible working width.
Press Release Summary: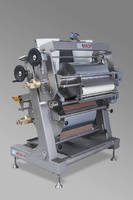 Designed to minimize or eliminate trim when processing masses for cereal, candy, protein, and fruit bars, WRF 600 Flex Roller Former enables width changes without production stoppages. System features smooth slab former with flexible working width allowing step-less and tool-free adjustments for precise cutting of bars in different sizes. As standard feature, slab thickness can be continuously adjusted between 0.196–1.181 in. WRF 600 features hygienic design and offers access from all sides.
---
Original Press Release:

Bosch Launches Slab Former with Flexible Working Width Increased Productivity for Bar Production



Precise working width adjustment allows for less or no trim to reduce product waste

Tool-free width adjustments without production stoppages for maximum uptime

Debut of Confectionery Service App enhances customer support



Chicago — At PACK EXPO International 2014, Bosch Packaging Technology, a leading supplier of processing and packaging solutions, is launching its WRF 600 Flex roller former for the North American market. Designed to minimize or eliminate the trim when processing masses for cereal, candy, protein and fruit bars, Bosch's WRF 600 Flex enables width changes without production stoppages, maximizing uptime and output. No other machine of its kind currently available on the market offers this capability.



In addition, Bosch is introducing its new Confectionery Service App for smartphones, tablets and PCs to complement the company's service portfolio.



Less waste, more bar



The new WRF 600 Flex roller former features a smooth slab former with a flexible working width allowing easy, step-less and tool-free adjustments for precise cutting of bar products in different sizes. As a result, less product mass is wasted, helping decrease production costs and contribute to faster return on investment (ROI). To accommodate slabs of different widths, operators simply make a manual adjustment to the machine during production – completely eliminating downtime. Removing the need for machine stoppages also reduces waste, maximizing product usage and enhancing productivity. The WRF 600 Flex gently forms the mass slab without applying any pressure, preventing product breakage. As a standard feature, the slab thickness can be continuously adjusted between 0.196 and 1.181 inches (5 and 30 millimeters).



With its hygienic design, the WRF 600 Flex allows manufacturers to meet the most stringent hygiene requirements and offers access from all sides, resulting in easy and tool-less cleaning.



"Today's manufacturers need technologies that can efficiently handle delicate products and decrease waste more than ever," said Frank Jansen, product manager, Bosch Packaging Technology. "The WRF 600 Flex is well positioned to meet these demands thanks to its flexibility and operator-friendly features."



Designed for simple integration with existing Bosch technology, manufacturers are able to partner with a single-source solution provider for their entire bar production line. Standardized interfaces allow for balanced speed of all line components to eliminate bottlenecks, minimize downtime and optimize production flow, facilitating high overall equipment effectiveness (OEE).



Smart Service

Bosch will also debut its innovative Confectionery Service App for smartphones, tablets and PCs at PACK EXPO International 2014 as part of an enhanced service package, complementing its confectionery and food technology. The app can be combined with the existing Bosch "E-portal", which contains customized as well as machine-specific spare parts data, allowing transparent flow of information and simplifying the ordering process. The app supports easy and immediate contact with Bosch's technical support team and ensures access to repair instructions.



The WRF 600 Flex will be on display in the South Hall, booth S-3514 at PACK EXPO International in Chicago, Illinois, United States, November 2 to 5.



Contact:  

Frank Jansen  

phone: +49 2162 248-452 



Based in Waiblingen near Stuttgart, Germany, and employing 5,600 associates, the Bosch Packaging Technology division is one of the leading suppliers of process and packaging technology. At over 30 locations in more than 15 countries worldwide, a highly-qualified workforce develops and produces complete solutions for the pharmaceuticals, food, and confectionery industries. These solutions are complemented by a comprehensive after-sales service portfolio. A global service and sales network provides customers with local points of contact. Additional information is available online at www.boschpackaging.com



The Bosch Group is a leading global supplier of technology and services. In 2013, its roughly 281,000 associates generated sales of 46.1 billion euros ($61.2 billion). (NB: Due to a change in accounting policies, the 2013 figures can only be compared to a limited extent with the 2012 figures). Its operations are divided into four business sectors: Automotive Technology, Industrial Technology, Consumer Goods, and Energy and Building Technology. The Bosch Group comprises Robert Bosch GmbH and its roughly 360 subsidiaries and regional companies in some 50 countries. If its sales and service partners are included, then Bosch is represented in roughly 150 countries. This worldwide development, manufacturing, and sales network is the foundation for further growth. In 2013, the Bosch Group invested some 4.5 billion euros ($6.0 billion) in research and development and applied for some 5,000 patents. This is an average of 20 patents per day. The Bosch Group's products and services are designed to fascinate, and to improve the quality of life by providing solutions which are both innovative and beneficial. In this way, the company offers technology worldwide that is "Invented for life."



Additional information is available online at www.bosch.com, www.bosch-press.com and http://twitter.com/BoschPresse



In the U.S., Canada and Mexico, the Bosch Group manufactures and markets automotive original equipment and aftermarket products, industrial drives and control technology, power tools, security and communication systems, packaging technology, thermo technology, household appliances, healthcare telemedicine and software solutions. For more information, please visit www.boschusa.com, www.bosch.com.mx.



© ABI 2014 All Rights Reserved

More from Mechanical Components and Assemblies