Skid Steer Loaders come with 49-78 hp engines.
Press Release Summary: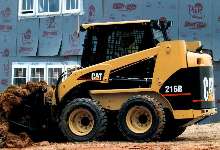 Radial lift B-Series loaders employ anti-stall system, pilot hydraulic joystick controls, and hydraulic system with 5 micron spin-on filter. Door has loader lock-out function, which prevents loader arm movement when door is open, and lights are adjustable 10° up and down as well as side-to-side. Model 248B uses Cat® XPS load sensing, pressure compensating hydraulic system that delivers max power regardless of engine speed. Each model uses U.S. EPA Tier 2 compliant engines.
---
Original Press Release:

Five Radial Lift Caterpillar® B-Series Skid Steer Loaders Offer More Power and Performance; New XPS Hydraulics on 248B


The Caterpillar 216B, 226B, 236B, 246B and 248B Skid Steer Loaders feature increased engine power and breakout force as well as improvements in operator comfort and machine reliability and serviceability. The 248B uses the new Cat® XPS hydraulic system, a load sensing, pressure compensating system that can deliver maximum power regardless of engine speed. For customers requiring a smaller machine to operate hydraulically powered work tools, a high-flow option is now available on the 226B.

Four of the five B-Series radial lift machines have new Cat engines, and all five have engine power increases ranging from 2 percent to more than 18 percent. All of the engines are U.S. EPA Tier 2 compliant. Each new B-Series machine puts that power to work for faster digging and material handling.

The 248B is the most versatile of the radial lift machines with a rated operating capacity of 2,000 pounds (907 kg) and net engine power of 76 horsepower (57 kW). The 248B joins the all-new 268B in its use of the high performance high flow XPS hydraulic system. A variable displacement piston pump provides hydraulic flow and pressure up to 33 gpm (125 L/min) and 4,060 psi (28 000 kPa). The load sensing system can provide high hydraulic power whether the engine is at low or high idle. The standard auxiliary hydraulic circuit powers work tools such as cold planers, wheel saws, hammers, compactors and brooms.

The 246B offers a rated operating capacity of 2,000 pounds (907 kg) and net engine power of 78 horsepower (58 kW), but without high flow hydraulics. The 236B has a rated operating capacity of 1,750 pounds (793 kg) and net engine power of 70 horsepower (52 kW)-up more than 18 percent from the previous model. Both loaders can deliver 22 gpm (81 L/min) hydraulic flow and maximum pressure of 3,335 psi (23 000 kPa).

The 248B, 246B and 236B are powered by the Cat 3044C DIT diesel engine. It features 3.3 liters displacement, direct injection and turbocharging for responsive and fuel-efficient operation. Each of the three new models also offers a two-speed option. The option boosts maximum travel speed from 7.6 miles per hour (12.2 kph) to 11.6 miles per hour (18.6 kph) for the 236B and from 7.7 milers per hour (12.5 kph) to 11.8 miles per hour (19.1 kph) for the 246B and 248B. The two-speed option can boost productivity in applications requiring frequent moves on the job site.

The 226B now employs a turbocharged 3024C T engine, which boosts net power more than 5 percent to 57 horsepower (42 kW). Rated operating capacity is 1,500 pounds (680 kg). The high flow option boosts hydraulic capabilities to 26 gpm (100 L/min) and maximum pressure of 3,335 psi (23 000 kPa) and enables the machine to handle high demands from work tools. The 216B, the smallest in the line, retains the 3024C engine, which produces 49 net horsepower (37 kW). Rated operating capacity is 1,400 pounds (635 kg).

B-Series improvements for all models

The improved B-Series hydraulic system design reduces the number of potential leak points and improves reliability and cleanliness. A 5-micron spin-on filter keeps hydraulic oil clean, and a high-efficiency hydraulic oil cooler allows the machines to work smoothly in high ambient temperatures.

The B-Series machines employ the proven anti-stall system and pilot hydraulic joystick controls that make Caterpillar Skid Steer Loaders easy to operate. B-Series improvements include a deluxe joystick design that incorporates positive-action buttons to control work tool hydraulic or electrical functions. An ergonomically designed arm bar is rounded and sculpted to provide superior operator comfort, and the redesigned gauge panels are easy to read. The B-Series cab offers a new door option with 25 percent more glass that improves sight lines to the working area. The new door also incorporates a new loader lock-out function that prevents loader arm movement when the door is open. A standard convex rearview mirror gives the operator a wider view behind the machine, and the lights are now adjustable 10-degrees up and down as well as side-to-side to suit the task and the operator's preference.

Ease of service is designed into each B-Series machine. The rear service door opens 90 degrees for easy access to both sides of the in-line-mounted engine. The loader is configured for straightforward access to the oil filter and air cleaner as well as fluid level check points. The cooling fan and air conditioning compressor are hydraulically driven to eliminate the maintenance required by belt drives. A higher alternator rating and battery rating improve reliability, as does a simplified wiring harness. For access to hydraulic pumps, motors and valves, an individual can tilt the cab rearward by using a single tool. A self-latching mechanism holds the cab in place.

With 10 different Cat B-Series Skid Steer Loaders to choose from, selecting the right machine for the job is made easier by consulting the local Caterpillar dealer or by using the Build and Quote application on-line. Both the Cat dealer web site and www.cat.com offer Build and Quote, which enables the customer to configure features for his requirements, review MSRP and request a custom quote from the local dealer.

216B, 226B, 236B, 246B and 248B Skid Steer Loader Brief Specifications

                            216B                        226B                       236B                       246B                      248B



Operating weight            5,709 lb (2589 kg)          5,834 lb (2646 kg)         7,007 lb (3178 kg)         7,142 lb (3239 kg)        7,321 lb (3320 kg)



Rated operating capacity    1,400 (635 kg)              1,500 (680 kg)             1,750 lb (793 kg)          2,000 lb (907 kg)         2,000 lb (907 kg)



Engine model                Cat 3024C                   Cat 3024C T                Cat 3044C DIT              Cat 3044C DIT             Cat 3044C DIT



Net engine power            49 hp (37 kW)               57 hp (42 kW)              70 hp (52 kW)              78 hp (58 kW)             76 hp (57 kW)



Hydraulic power             15.6 gpm (60 L/min)         15.6 gpm (60 L/min)        22 gpm (81 L/min)          22 gpm (81 L/min)         High Flow XPS            

                            3,100 psi (21 400 kPa)      3,335 psi (23 000 kPa)     3,335 psi (23 000 kPa)     3,335 psi (23 000 kPa)    33 gpm (125 L/min)

                                                        Highflow:                                                                       4,060 psi (28 000 kPa)

                                                        26 gpm (100 L/min)

                                                        3,335 psi (23 000 kPa)



Linkage type                Radial lift                 Radial lift                Radial lift                Radial lift               Radial lift



Pin height at max. lift     112 in. (2854 mm)           112 in. (2854 mm)          122 in. (3099 mm)          122 in. (3099 mm)         122 in. (3099 mm)



Machine width over tires    60 in. (1525 mm)            60 in. (1525)              66 in. (1676 mm)           66 in. (1676 mm)          66 in. (1676 mm)



Wheelbase                   39 in. (986 mm)             39 in. (986 mm)            45 in. (1134 mm)           45 in. (1134 mm)          45 in. (1134 mm)
More from Sensors, Monitors & Transducers