SKF to Demonstrate Oil and Gas Solutions at Pump & Turbomachinery Symposia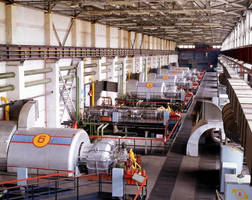 SKF will be showcasing a range of its solutions for the oil and gas sector at this year's Pump Turbomachinery Symposia.



Gothenburg, Sweden - SKF, the knowledge engineering company, will be presenting a range of products that improve the performance of assets in harsh oil and gas environments at the Pump Turbomachinery Symposia in Houston, Texas. The solutions on show enable OEMs and end users to improve asset reliability, minimize machine downtime and cut maintenance costs.



Visitors will see first-hand SKF's magnetic bearings and get insights to the benefits of the E300V2 control cabinet. The frictionless, oil-free, low maintenance operation of the SKF S2M magnetic bearings makes them a powerful solution that has delivered the benefits of high efficiency, long service life and low maintenance to critical oil and gas applications. The cabinet facilitates the use of magnetic bearing systems throughout the life of your equipment, from efficient commissioning to safe daily operation, maintenance planning and condition monitoring. The E300V2 replaces a popular earlier version, of which over 800 units have been installed around the world.



At the symposia SKF will be presenting a live tutorial in which the company's experts will demonstrate the application of API 617 standards on a rotating magnetic bearing rig. The tutorial will take place on Level Three of the convention center in Room 351F and is scheduled to begin at 8.30 am on Wednesday 16 September 2015.



The SKF exhibition booth will feature a range of industrial sealing solutions from Kaydon Ring and Seal, which are proven to improve the reliability of turbomachinery in oil and gas applications. The products include market leading dry gas seals, circumferential seals, oil buffered seals and seal control systems.



Also on display will be SKF's Multilog On-line System IMx-M, which is the ideal solution for monitoring the condition of critical offshore machinery. Together with SKF @ptitude Monitoring Suite software, the SKF Multilog IMx-M can provide a complete system for initiation of machinery shutdown, early fault detection, and diagnosis – enabling end users to protect and enhance the reliability of assets and prevent machine downtime.



Visitors will also be able to see a range of SKF's oil and gas lubrication solutions. SKF centralized lubrication systems are designed to reduce downtime and production losses, extend bearing and machinery life, and reduce the costs associated with manual lubrication.



The Pump & Turbomachinery Symposia takes place on 14-17 September 2015 at the George R. Brown Convention Center in Houston, Texas. Visitors to the event will find SKF at Booth 1307.



For further information, please contact:

Press Relations: Nia Kihlström, +46 31-337 2897; +46 706 67 28 97; nia.kihlstrom@skf.com



SKF is a leading global supplier of bearings, seals, mechatronics, lubrication systems, and services which include technical support, maintenance and reliability services, engineering consulting and training. SKF is represented in more than 130 countries and has around 15,000 distributor locations worldwide. Annual sales in 2014 were SEK 70 975 million and the number of employees was 48 593. www.skf.com



® SKF is a registered trademark of the SKF Group.

More from Communication Systems & Equipment