Size 12 Brushless DC Motor delivers up to 1,720 mNm peak torque.
Press Release Summary: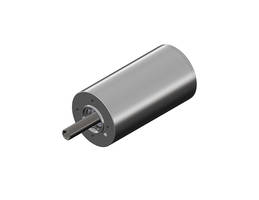 Portescap's Size 12 Brushless DC Motor is offered in in 9.6V, 12V and 14.4V versions in with cannulated and non-cannulated options. Suitable for orthopedic drills, reciprocating saws, oscillating saws, sagittal saws and reamer applications, unit's stators windings and electronics are encapsulated and protected from harsh environments. Motor can be used in surgical screw drivers, exoskeletons and robotic surgery applications.
---
Original Press Release:
New High Torque Brushless DC Motor Offers Improved Thermal Characteristics and Reliability for Orthopedic Large Bone Applications
Portescap introduces its newest surgical motor solution for large bone orthopedic powered hand tools. This new size 12 (31.5 mm diameter) mini motor is available in 9.6V, 12V and 14.4V versions with cannulated and non-cannulated options, these motors can deliver peak torques of up to 1,720 mNm in a compact envelope.
Samples are available in less than two weeks to help speed up the crucial design phase when multiple quick iterations are important to finalize the application specs.
These drives are suitable for various applications such as orthopedic drills, reciprocating saws, oscillating saws, sagittal saws and reamers. In addition, size 12 motors can also be used in robotic surgery applications, surgical screw drivers and exoskeletons.
Portescap's brushless DC slotted miniature motors for surgical power tools are designed and manufactured using unique process that encapsulates and protect stators windings and electronics from harsh external environments like autoclave and dish wash witnessed by these applications. In addition, Portescap insulates the windings per the medical safety requirements for hi-voltage protection that is mandatory for surgical powered hand tools.
Portescap has been collaborating with surgical power tool manufactures for over 20 years to supply miniature motors custom engineered for critical performance. We are able to help solve your most challenging motion needs for high torque, reliability, sealing, vibration and lower cost of ownership even all the way to creating various custom solutions (shafts, tool drivers, custom reduction ratios, shaft coating and seals, custom integrated housing, custom end-bell design to support pin out connections for easy plug & play and improved reliability).
Upon request, the drive systems can be coupled with autoclavable gearheads with different reduction ratios, autoclavable encoders and autoclavable controllers to meet the application needs. These drives come in different varieties to meet the divergent customer needs of reliability. Portescap motors are manufactured in an ISO/OSHA certified facility, and are RoHS compliant.
About Portescap
Portescap offers the broadest miniature and specialty motor products in the industry, encompassing coreless brush DC, brushless DC, stepper can stack, gearheads, digital linear actuators, and disc magnet technologies. Portescap products have been serving diverse motion control needs in wide spectrum of medical and industrial applications - medical, life science, instrumentation, automation, aerospace and commercial applications, for more than 70 years.
Portescap has manufacturing centers in the United States, St. Kitts, and India, and utilizes a Global Product Development network with research and development centers in the United States, China, India, and Switzerland.
Related