Size 11 Hybrid Linear Actuator is optimized for endurance.
Press Release Summary: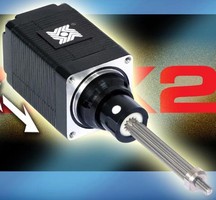 Designed to operate over lifetime of several million cycles, 28000 series double stack captive hybrid linear actuator has frame size of 1.1 in. square, is available in resolutions from 0.000125-0.002 in. per step, and delivers thrusts to 30 lb. Engineering thermoplastics in rotor drive nut and stainless steel Acme lead screw minimize noise and promote maintenance-free operation. Series also has integral anti-rotation mechanism and captive linear travels from 0.5-2.5 in.
---
Original Press Release:

New Size 11 Double Stack Captive Hybrid Linear Actuator



Waterbury, CT - Haydon Switch & Instrument, Inc. is proud to introduce the 28000 series (Size 11) double stack captive hybrid linear actuator, the latest addition to its continuously growing hybrid motor line. The compact frame size is only 1.1" (28 mm) square. The various linear actuator options deliver unmatched capabilities, opening avenues for equipment designers who require performance and endurance in a compact package.

Built for long life (several million cycles) and superior performance, the size 11 linear actuator features engineering thermoplastics in the rotor drive nut and a stainless steel Acme lead screw, which has made the Haydon products so popular. With this patented design, quiet and maintenance free operation are ensured. This captive hybrid linear actuator is available in a wide variety of resolutions ranging from 0.000125" (.003175 mm) per step to 0.002" (.0508 mm) per step and delivers thrusts of up to 30 lbs. (133 N) without compromising long life.

The captive linear actuator is designed with Haydon's patented integral anti-rotation mechanism and is especially well suited for applications in which external anti-rotation methods would be difficult or impossible to employ. Captive linear travel ranges from 0.5" (12.7 mm) to 2.5" (63.5 mm).

Applications requiring precise positioning and rapid motion are best suited for this motor. Typical applications include medical equipment, semiconductor handling, valve control, X-Y tables, hand held instruments, telecommunications, and many more. Priced aggressively, this product is ideal for incorporation into your next project. In addition to standard configurations, Haydon can custom design this motor to meet your specific application requirements.

Haydon is recognized worldwide as a leader for stepper motor based linear actuators, rotary motors, lead screw assemblies, and sealed switches. The Company, headquartered in Waterbury, CT, develops, designs and manufacturers internationally patented products for the global marketplace. The unique Haydon designs provide precise, reliable motors with unmatched performance-to-size ratios. Motors are simple and versatile, making them well suited for customization and manufacturing.

For more information about Haydon products, contact:
www.hsi-inc.com E-mail: [email protected]