Six-Axis Robot meets demands of lab automation.
Press Release Summary: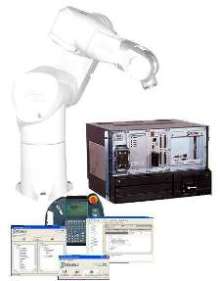 Utilizing direct-drive JCM® motor, Model TX40 features 450 mm work envelope and 2.3 kg maximum payload. Closed mechanical structure provides IP65 protection, while submersible wrist is reinforced and protected to IP67, making it suited for cleanroom applications and hostile environments. Model TX40 is intended for manipulation in laboratories or in semi-conductor industry and for executing processes involving delicate, small parts.
---
Original Press Release:

Stäubli Robotics Introduces the TX40 Robot to Meet the Demands of Lab Automation


End users and system integrators in the lab automation market highlighted the need for a smaller robot capable of being installed in the confined spaces often encountered in research labs and manufacturing cells. Stäubli responded with a brand new machine - the TX40.

Increasing demands are being placed on all activities in biotech, pharmaceutical, chemical and clinical laboratories. These demands are leading to the adoption and integration of automation systems to raise productivity and minimise human error. The automation challenge in many lab-based applications is often to replicate precisely, the movement of the human hand, fully capturing the smoothness and dexterity of the experienced technician. The new Stäubli TX40 robot offers just that, as well as being capable of a whole lot more.

The TX40 is an extremely fast, six-axis robot with a 450mm work envelope and 2.3kg maximum payload. It offers new integration possibilities through its compact design and ultra lightweight. The TX40's ability to operate in six axes provides the wide range of movement required and the large work envelope can often lead to a more efficient lab layout, releasing space for other activities. The closed mechanical structure of the TX40 provides Class IP 65 protection while the submersible wrist is reinforced and protected to Class IP 67. This makes it ideal for use in cleanroom applications and hostile environments.

Designed particularly for manipulation in laboratories or in the semi-conductor industry and for executing special processes involving delicate, small parts; the addition of this attractively priced, fast, small robot to the range moves Stäubli into some interesting new application areas. It is small enough to be located inside the guarding on many injection molding machines and machine tools.

Stäubli robots are known to be very precise and accurate, the new TX Series reinforces that commitment to precision. Developed totally in house by Stäubli, they have succeeded in increasing speed, acceleration, reach and payload capabilities while maintaining the precision and repeatability of the well established RX range. The extremely rigid, closed mechanical structure of the TX and the incorporation of the new, Stäubli designed and patented, compact ,direct-drive integrated JCM® motors, has resulted in a clear increase in operating performance that will support significant improvements in productivity.

The clean, precise and highly accurate range of six axis robots, developed by Stäubli provide the ideal solution to the unique set of requirements that the lab automation sector presents. In most laboratory applications cleanliness is of paramount importance. Stäubli's experience of automation systems in the semi conductor processing industry, where ultra clean low particulate environments, often to sub-class 1 levels are the norm, was essential to the design, development of the TX range of robots.

Processes and practices can change rapidly in the lab. Often a concern is will the robot be sufficiently adaptable to cope with the changing demands of the lab as well as being acceptable to highly qualified personnel as a bench top tool to improve their efficiency. In practice lab automation systems based on Stäubli robots have been fully accepted and recognized as providing a secure, reliable platform to support many new lab techniques and processes.

Stäubli is an international family owned group founded over 100 years ago in Switzerland employing 3500 worldwide. Robotic production is centered south of Geneva in the French Alps, with facilities across Europe, North and South America and the Far East. Over 15,000 Stäubli robots have been installed worldwide. Many end users are standardizing on Stäubli for all their multi-axis automation requirements. They are realizing the benefits that flow from a comprehensive understanding and appreciation of the wide-ranging capabilities of these highly developed machines.

For additional information contact:
Mr. Joe Gemma
Sales Manager - Industrial Robotics
Stäubli Corporation
Duncan SC 29334
Tel: +1 864 433 1980
Fax: +1 864 486 5497
E-mail:robot.usa@staubli.com
Website: www.staubli.com

More from Safety & Security Equipment