Siphon and Pressure Feed Cups work with HVLP spray guns.
Press Release Summary: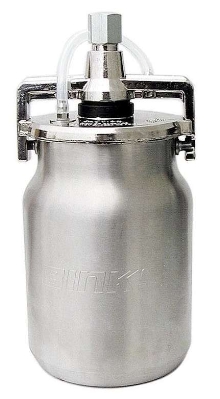 Stainless steel 1-quart siphon feed cup and 3 pressure assist cups are designed to provide precise fluid pressure control with conventional spray guns. They incorporate air regulator, flare lip cup, and flattened bottom cup design. They also feature proprietary check valve and vent design as well as lid, yoke, and lever design. Interchangeable parts include stainless steel cups, lids, lid gaskets, fluid tube, and yokes.
---
Original Press Release:
Binks Introduces A New Line of One Quart Stainless Steel Siphon And Pressure Feed Cups For Conventional And HVLP Spray Guns

May, 2005, Glendale Heights - Binks has announced a new one-quart stainless steel siphon feed cup and three pressure assist cups that provide more precise fluid pressure control and interchangeability of cup and cup parts for reduced inventory levels.

"The best features of previous Binks cup technologies have been incorporated into the new cup design," said Chuck Scott, Marketing Manager. "With the new cup line, we've added the benefits of more precise fluid pressure control and interchangeability of cups and cup parts. This will provide superior performance and parts flexibility for customers."

Features of the new One Quart Stainless Steel Cups include:

Binks field-proven flare lip cup and flattened bottom cup design

Binks field-proven check valve and vent design

Proven lid, yoke and lever design

New air regulator for more precise air control

Within the new cup designs only, the following parts are interchangeable:

-Stainless steel cups

-Cup lids

-Cup lid gaskets

-Cup fluid tube

-Cup yokes

Full line of feed cups for light to high viscosities

Binks pioneered the development of liquid spray finishing technology over 100 years ago and continues to set the standards for industrial spray finishing. For further information about Binks Stainless Steel Feed Cups, or other Binks spray finishing or fluid delivery products, please call Customer Service at 1.800.992.4657 or visit the Binks website at www.binks.com.