SiP Alignment Engine is Lightwave Innovation Reviews Award Winner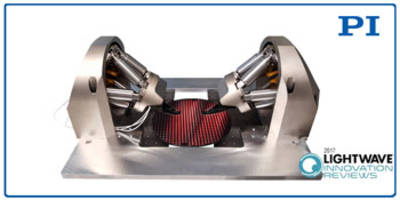 PI's automated high-speed alignment engine is honored with a 2017 Lightwave Innovation Reviews Award given for unique solutions in optical communications.
March 2017, Auburn, MA – When alignment speed is critical and accuracy needs to be at the nanoscale, for projects from planar testing to packaging, PI has the award-winning solution. The FMPA Fast Multichannel Photonics Alignment system received a 2017 Lightwave Innovation Review Award, which acknowledges the most original and innovative products in optical technology.
The SiP Solution
The FMPA Fast Multichannel Photonics Alignment Engine is an advanced alignment system based on a highly specialized digital motion controller with embedded advanced alignment and tracking functionality and a hybrid precision scanning and tracking mechanism combining the advantages of piezoelectric on servo-motorized drives. It addresses the market need for fast, parallel, nanoscale-accurate, multi-degree-of-freedom global optical alignment optimization required in key SiP production steps from planar test to packaging.
Learn more about PI's Award-Winning Technology
http://www.pi-usa.us/products/Photonics_Alignment_Solutions/index.php#FMPA
Standard and Custom Solutions
PI has over 4 decades of experience providing in-house engineered precision motion control solutions, and can quickly modify existing product designs or provide a fully customized OEM part to fit the exact requirements of the customer's application.
About PI
PI is a leading manufacturer of precision motion control equipment, piezo motors, air bearing stages, and hexapod parallel-kinematics for semiconductor applications, photonics, bio-nano-technology and medical engineering. PI has been developing and manufacturing standard & custom precision products with piezoceramic and electromagnetic drives for 4 decades. The company has been ISO 9001 certified since 1994 and provides innovative, high-quality solutions for OEM and research. The PI group employs more than 1,000 people worldwide in 15 subsidiaries and R&D / engineering centers on 3 continents.
USA / Canada
East
(508) 832-3456
Midwest
(508) 832-3456
West
(949) 679-9191 (LA Area & Mexico)
(408) 533-0973 (Silicon Valley/Bay Area)
About the 2017 Lightwave Innovation Reviews
The Lightwave Innovation Reviews is in its fourth year of recognizing and celebrating the industry's most unique products and solutions that help optical communications professionals worldwide drive improvements and innovation in optical technology. Executives at Ciena, Intel, Lumentum, LightCounting Market Research, and Adva were among the third-party judges for the 2017 Innovation Reviews. Criteria used in the Innovation Reviews rankings include, first and foremost, unique technology or application thereof, innovation, ease of use, efficiency, reliability and contribution to profitability.
About Lightwave
For more than 30 years, Lightwave has delivered trusted technical, application and business insights to senior-level decision makers for optical communications worldwide. Lightwave serves technology vendors, communications carriers and major enterprises with a complete and nuanced picture of the optical communications business environment. Lightwave is a valued information source for information related to FTTx, networking, equipment design, MSO optics, and test and measurement for corporate executives, department heads, project managers, network engineers and others making strategic decisions that are critical to the success of their businesses. Lightwave is a unit of PennWell Corporation.