Single-Screw Extruder is offered with PLC control.
Press Release Summary: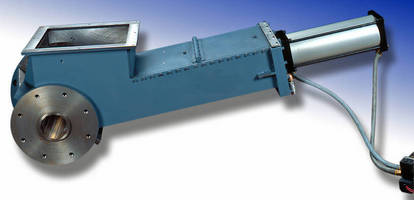 Ram Stuffer is available with PLC control that maximizes efficiency by eliminating operator adjustments for recyclers of low bulk density polymer scrap. Designed for light feedstocks, ram stuffer has pneumatic reciprocating ram, mounted at feed throat, that stuffs material into screw. PLC control automatically adjusts timing of ram stroke in accordance with variations in extrusion drive amperage caused by material bulk density changes. PLC can be retrofitted on existing extruders.
---
Original Press Release:

PLC Control on Ram Stuffer Recycling Extruder Compensates for Bulk Density Variations to Maintain Maximum Output



ADG Solutions, Exclusive North American Distributor of Davis Standard's Ram Stuffer, Says New PLC Control Can Be Retrofitted on Existing Extruders

FAIRFIELD, CT, U.S.A.: A new PLC control for the Davis Standard ram stuffer extruder increases productivity for recyclers of low bulk density polymer scrap such as films, fibers, and thermoformed sheet, it was announced today by ADG Solutions, exclusive North American distributor of Davis Standard reclaim and compounding equipment. ADG Solutions will demonstrate the control on a ram stuffer extruder during NPE2012 (Booth 4855).

The new control maximizes efficiency in reprocessing lightweight scrap, said Sandy Guthrie, president of ADG Solutions: "Bulk density variations in light feedstocks can range as widely as 10%, 20%, or even more, causing substantial reductions in extruder throughput," Guthrie said. "The PLC control now available on the ram stuffer automatically monitors motor amperage and eliminates the operator adjustments that until now were needed to increase productivity."

Designed specifically for light feedstocks, the ram stuffer single screw extruder has a pneumatic reciprocating ram mounted at the feed throat which stuffs material into the screw. The new PLC control adjusts the timing of the ram stroke in accordance with variations in extrusion drive amperage caused by changes in material bulk density. Since the ram cycle governs the rate at which material is fed into the extruder, the automated PLC control ensures that production will continue at the maximum level as measured in pounds per hour. The control system can be retrofitted on existing ram stuffer extruders.

A ram stuffer extruder can be installed in complete shredder-to-pelletizer recycling lines. The extruder feed throat is considerably larger than on standard extruders to prevent choking of light materials at the feed entrance. The throat is grooved to facilitate material conveyance and interaction with specially designed barrier screws.

The system is especially economical in terms of energy use when compared to systems with compactors, according to Guthrie.


More from Packaging Products & Equipment