Single-Output 500 W Power Supply measures 4 x 6 x 1.67 in.
Press Release Summary: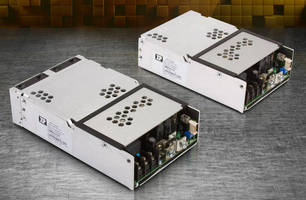 Employing two 3-speed fans, GSP500 series can continuously deliver full output power across -40 to +50°C and up to +70°C with derating. Nominal operation requires 12 cfm of forced air cooling, but up to 180 W output is possible with convection cooling only. Packaged in U channel chassis mount format, series include 3 models that provide nominal outputs of +12, +24, or +48 Vdc; +12 Vdc/0.3 A fan output is also provided. Products conform to medical and IT safety standards.
---
Original Press Release:

Compact 500 Watt Power Supply Fits 4" x 6" Footprint for Medical and Industrial Applications



XP Power today announced the GSP500 series of highly efficient 500 Watt AC-DC power supplies. Occupying a compact 4 x 6 inch footprint these single output forced air cooled units can continuously deliver the full output power across the wide temperature range of – 40 to + 50 degrees C and up to +70 degrees C with derating. With its high efficiency design and an almost entirely flat efficiency curve over the whole load range the supply requires just 12 CFM of forced air cooling. The GSP500 can also provide an output power of up to 180 Watts with convection cooling only.



Measuring 4.00 x 6.00 x 1.67 inches (101.6 x 152.4 x 42.4 mm) and packaged in a U channel chassis mount format, the GSP500 series is available in three single output models providing the nominal outputs of +12, + 24 or + 48 VDC. A +12 VDC / 0.3 A fan output is also provided. An integral end-mounted fan option (-EF) is available to order. Incorporating two 3-speed fans, the fan speed is determined by a combination of internal ambient temperature, input voltage and output load, and ensures acoustic noise is always kept to a minimum.  In addition, the unit is designed so the fans will shut down under all input conditions where the load is minimal. This approach helps prolong fan life and also suits medical applications where the end-equipment is located close to patients.



The series conforms to the ANSI/AAMI ES60601-1 medical 3rd edition safety standard and also complies with the internationally recognized IEC/UL/EN60950-1 safety standard for IT equipment. Protection features and control signals include power fail, inhibit, output good LED and remote sense. A +12 VDC fan supply is available on the U-channel version and a +5 VDC / 2 A always-on output is available to supply logic circuits.  With convection cooling the standby output is still available and rated at 5 Watts.

The GSP500 has a peak power capability that can deliver up to 650 Watts for a maximum of 100 ms.



The GSP500 series is priced at $214.50 for 500 pcs orders of the U bracket model and is available from Newark, Digi-Key, or direct from XP Power and come with a 3 year warranty.



For further information and reader enquiries:



Duane Darrow

XP Power

990 Benecia Avenue

Sunnyvale, CA 94085

Tel:       (971)-322-0326

Email: ddarrow@xppower.com

Fax: (408)-732-2002 

Web: www.xppower.com



William Sng SK

XP Power (Singapore) PTE LTD

Tel: +65 68469368  

Email: wsng@xppower.com

Fax: +65 67418730  

Web: www.xppower.com



For further information, text and graphics by email or to discuss feature article opportunities:



Robert Huntley

Publitek Limited

18 Brock Street

Bath, BA1 2LW, United Kingdom

Tel: +44 (0) 1225 470000 

E-mail: robert.huntley@publitek.com

Fax:  +44 (0) 1225 470047 

Web: www.publitek.com



Notes

XP Power is committed to being a leading provider of power solutions, including AC-DC power supplies and DC-DC converters. With ISO9001:2008, XP Power offers total quality, from in-house design through to manufacturing facilities around the world. The company offers the widest range of power products available from one source and unrivalled technical and customer support, aiding both vendor consolidation and cost reduction programmes. XP has 27 sales offices throughout Europe, North America and Asia.



XP Power Ltd, a London Stock Exchange listed public company, has design centres in Fyfield (UK), Orange County (California), and Singapore, which also serves as the company's headquarters. Manufacturing is carried out near Shanghai, China and Ho Chi Minh City, Vietnam. The design teams push back the boundaries of cost and technology, providing market leading power products. Dedicated in-house Engineered Solutions teams provide customer specific solutions, with rapid response times. The applications team provide expert technical support to help customers integrate and use XP power products worldwide.

www.xppower.com

More from Mechanical Components and Assemblies