Single Operator Helicopter Handling System suits smaller ships.
Press Release Summary: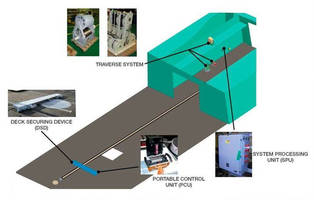 Addressing size and weight limits of smaller ships, INDAL Manual Aircraft Straighten and Traverse (MAST) system provides safe and secure method of maneuvering and traversing helicopters between flight deck and hangar. This single-operator shipboard Helicopter Handling System (HHS) is track based and controlled using chest pack-mounted Portable Control Unit worn by operator. Unit delivers optimal performance in all weather conditions, day and night, in sea conditions up to sea state 6.
---
Original Press Release:
New Cost-Effective, Single Operator Helicopter Handling System for Smaller Ships Introduced by Curtiss-Wright
Innovative Manual Aircraft Straighten and Traverse (MAST) system provides a safe, secure method of maneuvering and traversing helicopters onboard space-constrained ships

DSEI 2015, LONDON, UK (Stand S9-231) –  Curtiss-Wright Corporation (NYSE: CW) today announced that its Defense Solutions division, will  introduce a new low-cost, single operator shipboard Helicopter Handling System (HHS), designed specifically to address the size and weight limits of smaller ships, at the Defence and Security Equipment International exhibition, DSEI 2015 (Stand S9-231).

A more compact and lighter variation of the company's proven TC-ASIST HHS, the new INDAL Manual Aircraft Straighten and Traverse (MAST) system is track-based and controlled using a chest pack mounted Portable Control Unit worn by the operator while working alongside the aircraft. This approach eliminates the need for a permanent HHS console onboard an already space constrained ship. The INDAL MAST system combines design attributes of the proven Italian Navy TC-ASIST (Orrizonte/FREMM) with elements from the in-service Royal Navy MANTIS Handler.

INDAL MAST is Landing Grid compatible and safely and securely maneuvers and traverses a wide variety of helicopters, including the Lynx, EH101 and Dauphin between the flight deck and the hangar. Enabling helicopter missions in harsh environments, MAST is designed to deliver optimal performance in all weather conditions, day and night, in sea conditions up to sea state 6.

"As Naval helicopter deployments increase around the globe, rotorcrafts are more frequently tasked with landing onboard smaller ships," said Lynn Bamford, Senior Vice President and General Manager, Defense Solutions division. "Our new, innovative Manual Aircraft Straighten and Traverse system is the first to deliver a low-cost, single operator solution for securing and traversing helicopters on space constrained smaller vessels."

About the MAST
Once the INDAL MAST system has fully engaged it provides the helicopter with total security from toppling or sliding. After landing, the system secures the helicopter via a simple interface with the helicopter Main Landing Gear. INDAL MAST enables re-centering and alignment of the helicopter with the track axis and traversing the helicopter between the flight deck landing spot and the hangar. Additionally, the system can be used to easily position the helicopter to optimize alignment for external stores loading.

INDAL MAST Performance Features:
• Provides positive securing against sliding and toppling
• Provides fully controlled and guided movement during straightening & traversing
• Requires minimal operator training
• Provides precise alignment and positioning of aircraft during traversing through hangar door
• Safe operation (operator not in contact with airframe / no exposed cables on deck)
• Single system operator required on deck for full system functionality

In order to quantify system requirements and to define optimized operating envelopes for the general sea state conditions, INDAL can undertake a Dynamic Interface Analysis (DIA) of the ship response to the seaway and the ship-helicopter dynamic system as a part of initial design activities. Contact the factory for more information.

Sales inquiries: Please forward all Sales and reader service inquiries to [email protected]

For more information about Curtiss-Wright's Defense Solutions division, please visit www.cwcdefense.com.

About Curtiss-Wright Corporation
Curtiss-Wright Corporation (NYSE:CW) is a global innovative company that delivers highly engineered, critical function products and services to the commercial, industrial, defense and energy markets.  Building on the heritage of Glenn Curtiss and the Wright brothers, Curtiss-Wright has a long tradition of providing reliable solutions through trusted customer relationships. The company employs approximately 9,000 people worldwide.  For more information, visit www.curtisswright.com.

NOTE: Trademarks are property of their respective owners.

John Wranovics
Dir. of Public Relations
Defense Solutions Division
Curtiss-Wright
T: 925.640.6402
[email protected]