Single Fiber Optic Connector features rugged miniature design.
Press Release Summary: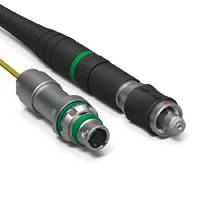 Measuring 13 mm, Model FO1 is available in pre-configured reels or integrated into custom assemblies for applications in instrumentation, sensing, defense, and broadcasting. UPC and APC polishing minimizes insertion and return losses, while push-pull locking system facilitates connection and disconnection, making connector suited for outdoor environments. Tested to withstand temperatures of -40°C, lightweight connector features IP68 mated and IP67 unmated ratings.
---
Original Press Release:

Smaller and Smarter: Fischer Connectors Expands its Robust FiberOptic Series with a New Single Fiber Optic Connectivity Solution



Fischer Connectors, the worldwide leader in push-pull circular connectors and cable assembly solutions, today launched its new single fiber optic connector (FO1) within its Fischer FiberOptic Series. This miniature, lightweight, rugged connectivity solution is easy to use and ensures premium performance even in harsh environments. The FO1 connector is available either in pre-configured reels or integrated into custom assemblies for applications in instrumentation, sensing, defense and broadcasting - to name only a few of the various fields for which this new product is ideally suited.



Combined miniaturization and robustness

The new connector fulfills the growing market need for higher data transmission rates over long distances, while reducing space and guaranteeing performance by means of rugged miniature solutions.



The FO1 connector integrates fully into the existing Fischer FiberOptic Series, well-known for its robust and faultless optical performances in any conditions, combined with easy use, cleaning and maintenance even in the field. UPC & APC polishing reduces insertion and return losses, making devices more secure, while IP68 sealing provides highly valuable device protection. The push-pull locking system allows quick and easy connections and disconnections, making these connectors ideally suited for outdoor environments. The removable sleeve holder (monobloc mate adapter) ensures that end faces can be cleaned easily, keeping electronics in top condition.



More flexibility for more efficiency

"We´ve extended our Fischer FiberOptic Series bearing our customers´ needs for flexibility and efficiency in mind", says Christopher Martin, FiberOptic Product Manager at Fischer Connectors. "The product line´s main benefits - high optical stability in harsh environments, robustness, and ease of use, cleaning and maintenance - remain the same. But we´ve designed this smaller product to be even lighter and more flexible so that it´s easy to integrate into existing solutions, saving time and money for our customers." As a reminder, the Fischer FiberOptic Series already includes two versions: a rugged fiber optic connector with two or four fibers, and a rugged hybrid connector with two fiber channels and two electrical contacts.



In a nutshell: main technical specifications



• IP68 mated & IP67 unmated ingress protection (Norm IEC 60529)

• UPC & SM APC polishing

• Easy cleaning even in the field

• High optical performances for high precision and data transmission rates

• Harsh/extreme environment fiber optic solution (Norm IEC 61753-1 Cat. E)

• Push-pull user-friendly mating plugs & receptacles

• Available with gas-tight panel receptacles and with SM & MM optical fibers

• Size: 13 mm



The FO1 connector has been tested to withstand temperatures of -40oC.



Selecting fiber optic solutions made easy

The FO1 connector can be pre-configured with Fischer FiberOptic Series reels of any required length, a convenient and flexible turnkey solution. To enable customers to choose the right connectivity solution for their specific needs, Fischer Connectors also provides a user-friendly request form that guarantees the mistake-proof configuration of cable assemblies.



Showcased at OFC tradeshow

The FO1 connector will be showcased for the first time at the Optical Fiber Communication Conference and Exhibition (OFC, 22-24 March, Anaheim, California, USA) on Timbercon, Inc.´s booth no. 2012, among other Fischer FiberOptic Series solutions.



Fischer FiberOptic Series.



More information:

• Website: http://www.fischerconnectors.com/single-fiber-fo1

• White paper "Fiber optic sensing": http://www.fischerconnectors.com/global/en/white-paper-sensing

• How to contact us: http://www.fischerconnectors.com/global/en/contact-us



About Fischer Connectors: Fischer Connectors has been designing, manufacturing and distributing high performance connectors and cable assembly solutions for 60 years. Known for their reliability, precision and resistance to demanding and harsh environments, Fischer Connectors´ products are commonly used in fields requiring faultless quality, such as medical equipment, industrial instrumentation, measuring and testing devices, broadcast, telecommunication and military forces worldwide. Primary design and manufacturing facilities are located in Saint-Prex, Switzerland, with subsidiaries and distributors located worldwide.



Fischer Connectors US

1735 Founders Parkway

Suite 100

Alpharetta, GA 30009

United States

Departement Sales

Phone: +1 678 393 5400

Fax: +1 678 393 5401

mail@fischerconnectors.com

http://www.fischerconnectors.com/us



Fischer Connectors SA

Chemin du Glapin 20

CH-1162 Saint-Prex



Media contact:

International Events & PR Specialist

Steve Donnet

Phone: +41 21 800 95 95

Fax: +41 21 800 39 24

pr@fischerconnectors.ch

www.fischerconnectors.com



More from Mechanical Components and Assemblies