Single/Dual-Gate Logic Devices provide ring-free switching.
Press Release Summary: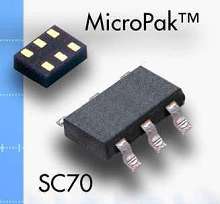 Ultra Low Power TinyLogic(TM) products operate over 0.9-3.3 V V
cc
range. Suited for low-voltage, battery-powered, portable applications, NC7SP models offer propagation delays of 6 ns at 1.8 V and 3 ns at 3.3 V. NC7SV models offer 1.9 ns propagation delays at 1.8 V, and 1 ns at 3.3 V. All models provide Over Voltage Tolerant (OVT) inputs and outputs that interface with devices operating up to 3.6 V. Devices combine Quiet Series(TM) Logic and Graduated Turn On Methodology.
---
Original Press Release:

Fairchild's New TinyLogic(TM) Ultra Low Power Family Offers Portable Designers High-Speed, Ring-Free Switching at 0.9V-3.3V Vcc Operating Voltages


South Portland, Maine-November 7, 2002-Fairchild Semiconductor (NYSE: FCS), a leading supplier of single-and dual-gate logic components, has utilized its low noise design expertise with low operating voltage in its expanded portfolio of Ultra Low Power TinyLogic(TM) single- and dual-gate logic devices. The TinyLogic ULP Series' dramatic improvement in reducing power consumption-up to 50 percent less than standard logic-significantly increases battery run time for portables.

These devices address the demands of newer ASICs, microprocessors and DSPs operating at lower voltages. Operating over a Vcc range of 0.9V-3.3V, this family is ideal for low voltage battery powered portable applications. Propagation delays for the 18 new NC7SP-designated devices (e.g., NC7SP00) are 6ns at 1.8V and 3ns at 3.3V. Another 18 new NC7SV models (e.g., NC7SV00) offer 1.9ns propagation delays at 1.8V, and 1ns at 3.3V. The TinyLogic ULP family also provides Over Voltage Tolerant (OVT) inputs and outputs that interface easily with any device operating up to 3.6V.

Combining Fairchild's low-noise design expertise (e.g., Quiet Series(TM) Logic, Graduated Turn On
Methodology) with fast switching assures noise-free logic at lower Vcc levels-important as logic levels trend below 1.8V. The absence of noise "ringing," coupled with short propagation delays, and rise and fall times, is key to TinyLogic ULP's highly desirable performance characteristics for today's decreasing-voltage environment.

TinyLogic Ultra Low Power logic devices are available in five- and six-lead SC70 packaging. Availability in leadless chip scale MicroPak (1.45 sq mm) packaging is scheduled for Q4 2002. Eight-lead US8 (6.2 sq mm) is planned for early next year. The TinyLogic ULP devices complement a growing family of products from Fairchild targeted at extending battery life. These include ultra-low power ACEx(TM) microcontrollers (standby condition current consumption of 100nA) and low power, high performance amplifiers.

Price: $0.25 each in 3,000 piece quantities (SC70, five- or six-lead packaging)
Availability: Now
Delivery: 4 weeks ARO

For more information, contact Fairchild Semiconductor Customer Response Group at (888) 522-5372, fax (972) 910-8036 or visit Fairchild's website at www.fairchildsemi.com/products/logic/tinylogic/ulp.html

About Fairchild Semiconductor
Fairchild Semiconductor International (NYSE: FCS) is a leading global supplier of high-performance products for multiple end markets. With a focus on developing leading-edge power and interface solutions to enable the electronics of today and tomorrow, Fairchild's components are used in computing, communications, consumer, industrial, and automotive applications. Fairchild's 10,000 employees design, manufacture and market power, analog & mixed signal, interface, logic, and optoelectronics products from its headquarters in South Portland, Maine, USA and numerous locations around the world. Please contact us on the web at: www.fairchildsemi.com.

More from Materials