Single-Axis Gyro offers ultra-low ARW noise.
Press Release Summary: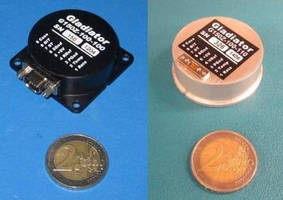 Designed for demanding commercial image stabilization applications, Model G150Z features bipolar VSG-compatible signal outputting balanced 0 V ±5 V. Device offers ultra-low noise of 0.001°/sec/SQRTHz ~ 0.042°/SQRTHour 1, short term bias of <=1.2°/hour 1, and bias over temperature of <=0.1°/sec 1. G-Sensitivity is <=0.01°/sec/g 2 and axis alignment is <4 mrad 1. Operating from less than 20 mA, gyro includes internal temperature sensor and Built-In-Test monitor.
---
Original Press Release:

Gladiator Technologies Announces Improved Performance Rugged G150Z Single-Axis Gyro



Ultra-Low ARW Noise of 0.001°/sec/SQRTHz ~ 0.042°/SQRTHour 1s



SNOQUALMIE, Wash., -- Gladiator Technologies announced today release of their high performance G150Z Single Axis Gyro. This enhanced high performance model builds upon the successful heritage of the company's predecessor gyros, and is also form, fit and function interchangeable with the G50Z and G100Z. It also features industry leading bias in-run and bias over temperature. Designed for demanding commercial image stabilization applications, the gyro has a bipolar "VSG compatible" signal outputting balanced 0V ± 5V.



The G150Z is the latest addition to our family of high performance analog output MEMS gyros and accelerometers offering best-in-class noise and bias with exceptional performance over temperature and low misalignment and g-sensitivity. The G150Z single axis gyro has many advanced performance features including:



--  NON-ITAR Commercial MEMS Gyro

--  FFF Interchangeable with G50Z & G100Z Gyro

--  Ultra-Low Noise 0.001°/sec/SQRTHz ~ 0.042°/SQRTHour 1

--  Short Term Bias <=1.2°/hour  1

--  Bias Over Temperature <=0.1°/sec  1

--  G-Sensitivity <=0.01°/sec/g 2

--  Axis Alignment <4mrad 1

--  Low Power < 20 mA Typical

--  Bipolar "VSG" Compatible Signal

--  Light Weight 28 grams

--  Low Voltage +5V (single sided power)

--  Bandwidth 200Hz

--  Voltage Output

--  Internal Temperature Sensor

--  Built-In-Test (BIT) Monitor

--  Shock Resistant 500g

--  Vibration 6 gRMS

--  High MTBF

--  Export ECCN 7A994 (NLR)

--  Link to datasheet, data & images



Gladiator's CEO, Mark Chamberlain, commented, "Gladiator Technologies is a market leader in developing high performance and ultra-low noise MEMS gyros and integrated MEMS inertial systems. The new G150Z gyro offers best-in-class performance that is commensurate with much more expensive small RLG's and small open loop FOG's. It also offers users the advantage of 200Hz bandwidth and it has a simple analog output." Chamberlain added, "The G150Z is just our latest high performance product to be introduced this year. Our burgeoning product pipeline has many new higher performance products slated for market introduction later this year. This includes the integration of a new 10Hz GPS receiver in our inertial systems that has been integrated across all product lines that is just entering production right now."



Gladiator uses state-of-the-art design tools and manufacturing processes including fully automated environmental and temperature testing and proprietary calibration methods for environmental performance optimization. A comprehensive ERP system combined with lean manufacturing and six sigma techniques has enabled high volume production at low cost and high quality. Gladiator's quality system is certified to AS9100C/ISO9001:2008.



Gladiator Technologies, Inc.       

Tel:  425-396-0829 x222 

Fax:  425-396-1129 

E-mail: sales@gladiatortechnologies.com

Web Site: http://www.gladiatortechnologies.com

More from Non-Industrial Products