Simulation Software optimizes waste heat recovery cycles.
Press Release Summary: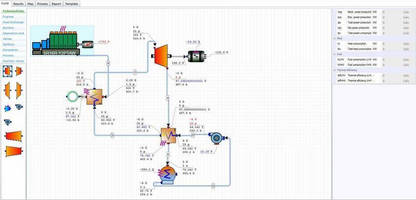 While offering calculations for heat balance and thermodynamic simulations, AxCYCLE™ v2.3 also provides fluid library that helps engineers develop models and cycles tailored for waste heat recovery for internal combustion engines. Optimized mapping functionalities and graphics are also featured, along with ability to run multipoint analysis for different operating conditions. Built-in OEM internal combustion engine library and OEM gas turbine library can be customized.
---
Original Press Release:

New AxCYCLE(TM) Software Release Optimizes Waste Heat Recovery Cycles



SoftInWay, Inc., an international engineering firm specializing in turbomachinery consulting, education and software has officially announced the latest features for AxCYCLE, with the release of version 2.3. With this update, the system's new tools are available to all users, but waste heat recovery application engineers, particularly in the automotive industry, should take notice.



AxCYCLE offers ultrafast and reliable calculations for heat balance and thermodynamic simulations. The product, released back in late September 2013, was under development for the last few months to focus on several key features.



One major development is an extended and comprehensive fluid library that will help engineers develop more models and cycles specifically tailored for waste heat recovery for internal combustion engines. Users will also experience improved mapping functionalities and graphics and be able to run multipoint analysis for different operating conditions.



AxCYCLE also contains a built-in OEM internal combustion engine library and an OEM gas turbine library; both of which can be customized.



"We listened to what our clients had to say.  They told us they needed a library of engines and now we're providing it.  But we're also giving more. We are proud to say we are the first to deliver these capabilities to the waste heat recovery industry.  We've developed the capability to work with all major fluids which are utilized in waste heat recovery systems and we created a visualized infrastructure to track changes in fluid conditions during the expansion and compression processes. It's a simplified process for choosing the right range of operation of machinery," said Dr. Leonid Moroz, president and CEO of SoftInWay, Inc.



This software release is in full operation now and SoftInWay is offering a free 30 day trial to new users through the AxCYCLE website, www.axcycle.com.



About SoftInWay:

SoftInWay Inc. is a company of turbomachinery specialists dedicated to improving turbomachinery efficiency. We offer extensive expertise through our training and consulting services and provide turbomachinery software solutions for flow path design, redesign, analysis, and optimization. We support over 200 companies worldwide including OEMs, EPCs, and other service providers in power generation, oil and gas, aerospace, defense, automotive and clean tech sectors and we work closely with universities, research laboratories, and government and defense organizations to bring solutions to the turbomachinery industry. www.softinway.com

More from Sensors, Monitors & Transducers