Simulation Software helps improve reliability of welded joints.
Press Release Summary: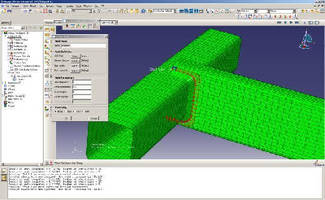 Offered as add-on for Abaqus FEA software, Verity® for Abaqus lets engineers simulate realistic structural stress in welded joints and other connections. Predictive stress characterization tool, based on Battelle's Verity® mesh-insensitive structural stress method, promotes accurate weld performance analysis, reduces development costs, and accelerates design/implementation processes. Areas of use include nuclear power as well as oil and gas industries.
---
Original Press Release:

Dassault Systèmes Announces New Solution to Improve Reliability of Welded Joints



Verity® for Abaqus from SIMULIA Leverages Battelle Technology for Nuclear Power, Oil & Gas and Heavy Machinery Applications

Paris, France, and Providence, R.I. USA, April 10, 2009 - Dassault Systemes (DS) (Euronext Paris: #13065, DSY.PA), a world leader in 3D and Product Lifecycle Management (PLM) solutions, today announced the availability of Verity® for Abaqus, from the DS SIMULIA brand, for simulating realistic structural stress in welded joints and other connections.

Verity® for Abaqus, a new add-on product for Abaqus FEA software, enables engineers to easily and accurately predict a consistent stress characterization for welded joints in industrial applications such as pressure vessels, piping, storage tanks, offshore platforms, and construction equipment. The new product is based on the Verity® mesh-insensitive structural stress method from Battelle, the world's largest non-profit independent research and development organization.

In addition to welded joints, the Verity® structural stress method can also be applied to structures with geometrical notches such as adhesive joints, mechanically fastened joints, electronic packages, and manufacturing notches that exhibit stress concentrations due to loading. The method has been adopted in the American Society of Mechanical Engineers (ASME) Division 2 Code and API 579/ASME FFS-1 Codes for Fitness-for-Service assessments based on allowable stress methods and plastic collapse loads.

"Due to mesh sensitivities in finite element models, it is difficult for engineers to accurately characterize structural stress in welded joints and other discontinuities, and this often results in unreliable fatigue life prediction," stated Steve Crowley, director of product management, SIMULIA, Dassault Systemes. "By leveraging Battelle's technology, Verity® for Abaqus provides a mesh-insensitive solution and enables engineers to improve reliability and safety of structures that use welds or other joining techniques such as soldering or brazing."

In the nuclear power industry, Verity® for Abaqus helps engineers to more accurately evaluate weld performance of mission-critical components and systems such as pressure vessels to reduce maintenance and in-situ physical inspection. In the oil and gas industry, benefits include improved operational availability of physical systems such as pipelines and offshore structures. "The industry challenge of meeting regulations for structural stress of welded joints requires new technology and methods," stated Spencer Pugh, Vice President for Battelle's Industrial and International market sector. "By integrating our Verity® technology with Abaqus, SIMULIA is providing a unique simulation solution that enables companies to analyze accurate weld performance, lower development costs, and accelerate their design and implementation processes."

For more information, visit: www.simulia.com/products/vfa.

About Battelle
Battelle is the world's largest non-profit independent research and development organization, providing innovative solutions to the world's most pressing needs through its four global businesses: Laboratory Management, National Security, Energy Technology, and Health and Life Sciences. It advances scientific discovery and application by conducting $5.2 billion in global R&D annually through contract research, laboratory management, and technology commercialization. Headquartered in Columbus, Ohio, Battelle oversees 20,400 employees in more than 130 locations worldwide, including seven national laboratories which Battelle manages or co-manages for the U.S. Department of Energy and the U.S. Department of Homeland Security.

Battelle's Global National Security business applies science and technology to solve complex technical challenges for the military services and federal agencies. Including the operations of national laboratories, Battelle annually performs nearly $1.6 billion in national security-related work contributing to advances in chemical and biological defense, homeland security, armor, technology refreshment, and undersea technology.

About SIMULIA
SIMULIA is the Dassault Systemes brand that delivers a scalable portfolio of Realistic Simulation solutions including the Abaqus product suite for Unified Finite Element Analysis, multiphysics solutions for insight into challenging engineering problems, and SIMULIA SLM for managing simulation data, processes, and intellectual property. By building on established technology, respected quality, and superior customer service, SIMULIA makes realistic simulation an integral business practice that improves product performance, reduces physical prototypes, and drives innovation. Headquartered in Providence, RI, USA, SIMULIA provides sales, services, and support through a global network of regional offices and distributors. For more information, visit www.simulia.com.

About Dassault Systemes
As a world leader in 3D and Product Lifecycle Management (PLM) solutions, Dassault Systemes brings value to more than 100,000 customers in 80 countries. A pioneer in the 3D software market since 1981, Dassault Systemes develops and markets PLM application software and services that support industrial processes and provide a 3D vision of the entire lifecycle of products from conception to maintenance to recycling. The Dassault Systemes portfolio consists of CATIA for designing the virtual product - SolidWorks for 3D mechanical design - DELMIA for virtual production - SIMULIA for virtual testing - ENOVIA for global collaborative lifecycle management, and 3DVIA for online 3D lifelike experiences. Dassault Systemes' shares are listed on Euronext Paris (#13065, DSY.PA) and Dassault Systemes' ADRs may be traded on the US Over-The-Counter (OTC) market (DASTY). For more information, visit 3ds.com.

CATIA, DELMIA, ENOVIA, SIMULIA, SolidWorks, and 3DVIA are registered trademarks of Dassault Systemes or its subsidiaries in the US and/or other countries.

More from Portable Tools