SimpleLink™ Wireless MCUs come with single-chip hardware.
Press Release Summary: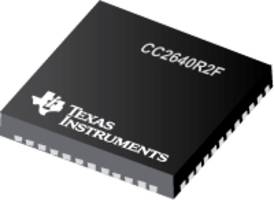 Featuring Bluetooth-compliant radio and low-power sensor controller, SimpleLink CC2640R2F and CC2640R2F-Q1 Wireless MCUs are used in building, medical, commercial and industrial automation. Enabling smartphone connectivity for car access, CC2640R2F-Q1 wireless MCU comes in 7x7 mm QFN package and provides PEPS and RKE. Housed in 2.7 x 2.7 mm, 4 x 4 mm, 5 x 5 mm and 7 x 7 mm QFN packages, CC2640R2F wireless MCU supports Bluetooth 5 specifications.
---
Original Press Release:
Texas Instruments Expands Bluetooth® Low Energy Portfolio with More Available Memory, Bluetooth 5 Compatibility and Automotive Qualification
New SimpleLink™ wireless MCUs help connect industrial, consumer and automotive applications
Delivering more available memory, Bluetooth® 5-ready hardware, automotive qualification and a new ultra-small wafer-chip-scale package (WCSP) option, Texas Instruments (TI) (NASDAQ: TXN) today announced two new devices in its scalable SimpleLink™ Bluetooth low energy wireless microcontroller (MCU) family. The new devices continue to feature advanced integration including a complete single-chip hardware and unified software solution with an ARM® Cortex®-M3 based MCU, automatic power management, highly flexible full-featured Bluetooth-compliant radio and a low-power sensor controller. For more information, visit www.ti.com/bluetoothlowenergy.
New TI Bluetooth low energy solutions
Enhance your Internet of Things (IoT) applications with the new SimpleLink CC2640R2F wireless MCU which offers more available memory for richer, more responsive and high-performance applications. The device comes in a tiny 2.7x2.7 mm chip-scale package (WCSP) option that is less than half the size of TI's smallest 4x4 mm QFN package, yet still delivers the longest range with the lowest power consumption. The new CC2640R2F is ready for the Bluetooth 5 core specification which offers longer range, higher speed and more data for enhanced connection-less applications in building automation, medical, commercial and industrial automation.
Hit the road with the SimpleLink CC2640R2F-Q1 wireless MCU that enables smartphone connectivity for car access including passive entry passive start (PEPS) and remote keyless entry (RKE), as well as emerging automotive use cases with AEC-Q100 qualification and Grade 2 temperature rating. Additionally, the CC2640R2F-Q1 device is the industry's first solution to be offered in a wettable flank QFN package which helps reduce production line cost and increases reliability enabled by optical inspection of solder points.
These additions – along with more processing power, more security and even more memory coming later in 2017 – will allow developers to quickly and easily reuse their project across pin- and code-compatible ultra-low-power CC264x wireless MCUs as application demands grow and change. The scalable SimpleLink CC264x wireless MCU family will enable product optimizations based on size, system cost and application requirements rather than using a one-size fits all solution. Additionally, the CC264x family is supported by a unified software and application development environment, royalty-free BLE-Stack software, Code Composer Studio™ integrated development environment (IDE), system software and interactive training materials.
Get ready for Bluetooth 5
Bluetooth 5 is coming with longer range, higher speeds and increased broadcasting capacity, making it a great wireless RF protocol for low-power, mobile personal networks and remote controls as well as longer-range building and IoT networks. The SimpleLink CC2640R2F wireless MCUs' highly flexible radio fully supports these new Bluetooth 5 specifications and the accompanying software stacks will be available in the first half of 2017, making it among the first devices in mass production with Bluetooth 5 capability.
Automotive connectivity
Built upon the CC2640R2F wireless MCU, which offers the longest range with the lowest power, the CC2640R2F-Q1 wireless MCU brings best-in-class RF to the automotive market. For car access and emerging applications such as assisted parking, car sharing and in-car cable replacement, the new AEC-Q100-qualified device will support Bluetooth 5 in the second half of 2017. Pre-release samples of the CC240R2F-Q1 device will be available mid-February, for more information please contact bleauto@list.ti.com.
Availability and pricing
Developers can get started immediately with the SimpleLink Bluetooth low energy CC2640R2F and CC2640R2F-Q1 wireless MCU-based development kit through the TI store and authorized distributors. The CC2640R2F wireless MCU LaunchPad™ development kit (LAUNCHXL-CC2640R2) is available for US$29.
Available now for mass production:
The CC2640R2F wireless MCU is available in 2.7x2.7 mm WCSP and 4x4, 5x5 and 7x7mm QFN packages starting at $2.00 in 1,000 unit volumes.
Pre-release samples available in mid-February:
The CC2640R2F-Q1 wireless MCU in a 7x7 mm QFN package starting at $6.99 in 1,000 unit volumes.
Learn more about TI's Bluetooth low energy solutions:
Visit our Bluetooth low energy page on TI.com.
Get trained with SimpleLink Academy.
Stay connected by subscribing to the ConnecTIng Wirelessly blog.
TI's SimpleLink wireless connectivity portfolio
TI's SimpleLink™ portfolio of low and ultra-low power wireless connectivity solutions – wireless MCUs and wireless network processors (WNPs) for the broad embedded market – makes it easier to develop and connect anything to the Internet of Things (IoT). Spanning over 14 standards and technologies including Bluetooth® low energy, Wi-Fi®, Sub-1 GHz, 6LoWPAN, Thread, ZigBee® and more, SimpleLink products help manufacturers easily add wireless connectivity to anything, to any design, for anyone. www.ti.com/simplelink.
About Texas Instruments
Texas Instruments Incorporated (TI) is a global semiconductor design and manufacturing company that develops analog ICs and embedded processors. By employing the world's brightest minds, TI creates innovations that shape the future of technology. TI is helping more than 100,000 customers transform the future, today. Learn more at www.ti.com.
SOURCE Texas Instruments
Amy Szeto,
Texas Instruments,
214-567-7513,
Web Site: http://www.ti.com
More from Optics & Photonics