Silver Cinema Projection Screens fold for shipping.
Press Release Summary: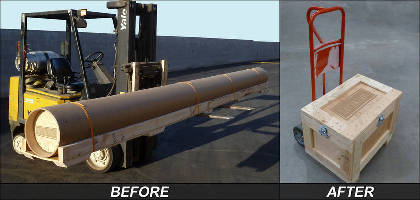 Available in standard or micro perforation, SeVision 3D GX and Ultra Wide Cinema Screens feature coated surface that is difficult to bruise and scuff. Small micro flake coating produces sharp image that eliminates graininess in bright scenes. Use of proprietary non-leafing flake vs. leafing flake promotes longevity by eliminating degradation of optical properties over time. Offering viewing angles from 30–40° half-gain, screens are suited for movie houses, museums, and universities.
---
Original Press Release:

Severtson Screens Folded Silver 3D Cinema Screens Now Available for International Shipping



Mesa, Arizona, USA — Severtson Screens (www.severtsonscreens.com), a global leader in innovative and quality projection screens for the cinema, commercial, pro AV, and home theater markets, is pleased to announce the new folded SeVision 3D GX line of silver cinema projection screens are now available for international shipment.



"Launched at the recent CinemaCon 2014 event to rave reviews, our new folded shipping method now makes international distribution of our industry-acclaimed SeVision 3D GX highly affordable, reducing international shipping costs by up to 70 percent," explained Toby Severtson, president and CEO of Severtson Corp.



Added Dan Maxwell, Severston Corp. V.P. & Chief Operating Officer, "We have received numerous international orders since introduction, and our international customers are thrilled because, prior to this innovative process, shipping costs associated with such large packages as this were out-of-reach for so many. Not anymore."



Now, Severtson Screens' silver 3D screens can be folded and packed into a much smaller crate without any loss in structural integrity or performance abilities. Severtson's new folded screen process not only reduces international shipping fees, the smaller packaging simplifies delivery to theaters and is more convenient for installers, as well.



The new folded line of SeVision 3D GX and Ultra Wide cinema screens is now available for delivery to international destinations, and has numerous advantages, including:

• available in standard or micro perforation

• coated surface that is harder to bruise and scuff

• small micron flake coating produces a sharper image that eliminates graininess in bright scenes

• viewing angles range from 30 to 40 degree half-gain depending on the specific screen gain requested

• use of a proprietary non-leafing flake vs. a leafing flake promotes longevity by eliminating degradation of the optical properties over time

• perfect for all large cinema applications, such as movie houses, museums, universities, etc.



According to Severtson, in the past, the idea of folding a screen for shipment, delivery, and installation has been deemed impossible because there was no method of doing it without degrading the quality and performance of the screen, or ruining it altogether.



Today, the cost offset on shipping as well as the screen's performance and longevity increases savings for the customer. This is huge news for the international market that desires a state-of-the-art silver 3D cinema screen, but, up until now, simply could not afford the shipment and installation cost because of how such a large screen had to be prepared, packed, and shipped.



Severtson Corporation is a member of the Giant Screen Cinema Association. They have manufactured cinema screens for theaters in countries all over the world, including the United States, Mexico, Canada, Korea, Japan, Brazil, Indonesia, Singapore, Spain, Germany, France, New Zealand, Australia, Netherlands, Thailand, Scotland, China, Russia, and many more. To meet the challenge of creating extremely large screens, Severtson Corporation designed a robotic spray-arm application system to paint its high-performance optical coating in-house on screens as large as 67.75ft. x 150ft. (20.7m x 45.8m). It is currently the largest in-house cinema screen optical coating system in the world.



Approaching its 30th anniversary in 2016, Severtson Corporation continues to be a global leader in innovation and quality. The Severtson family's extensive experience in manufacturing small home theater screens and large cinema screens has given Severtson Corporation the expertise to meet the needs of the professional and consumer AV markets for both indoor applications as well as large outdoor venues.



With its three Arizona-based production facilities and its state-of-the-art robotic application system, Severtson has massive production capabilities and an unusually wide array of screens. The screens range in size from massive movie theaters, comfortable home theaters, and everything in between. 



For more information, please visit www.severtsonscreens.com, call 480-610-5155, or email sales@severtsonscreens.com.



About Severtson Screens

Mesa, Ariz.-based Severtson Screens, which celebrated its 25th anniversary in 2011, is an award-winning global leader in innovative and quality projection screens in the home theater, pro AV, and cinema markets. Its low rejection rate coupled with the high quality of all its products has made Severtson Corporation the industry standard for quality and customer service worldwide.



From its unlikely origins in the family kitchen to today's three modern production facilities, Severtson Corporation has remained committed to the principles of innovation and uncompromising quality that have made them who they are today.

More from Packaging Products & Equipment