Silicone Wiper Blades deliver streak-free performance.
Press Release Summary: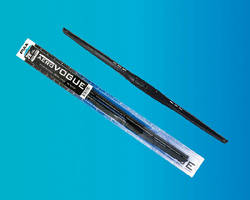 Featuring silicone infused design, Vogue Wiper Blades continually reapply active silicone coating on windshield to minimize surface tension, ensure smooth and quiet operation, and cause water to repel from windshield for maximum wiping capability and streak-free operation. Pass Through technology reduces blade chatter and wind lift when traveling at higher speeds. Available in sizes from 12–28 in. to cover 98% of all vehicles, frameless blades are aerodynamic and resistant to heat and ozone.
---
Original Press Release:

New PIAA Aero Vogue Silicone Wipers Set the Standard for High Performance Wiper Blades



– Innovative 'pass through' technology and patented 'silicone composition' deliver streak-free performance with reduced blade chatter and less wind lift at higher speeds –



Portland, OR PIAA-USA Corporation, an acknowledged leader in innovative automotive products has just launched its new, patented Aero Vogue Silicone Wiper Blades for high performance applications. These innovative wiper blades are designed to deliver the best in performance and functionality for drivers in all seasons.



The new Aero Vogues feature PIAA's patented silicone technology, which reduces surface tension, causing water to repel from the windshield for maximum wiping capability and streak free operation. The silicone infused blade continually reapplies an active silicone coating on the windshield to ensure smooth and quiet operation. This silicone protection also causes rain to bead, allowing greater windshield visibility even when the wipers are off. Blade formulation is heat and ozone resistant, which helps extend blade life and maintain performance.



The overall design of the new aero style cover is built for maximum performance at high speed. It features "Pass Through" technology, which greatly reduces blade chatter and wind lift when traveling at higher speeds. The frameless, low profile, aerodynamic design of the Aero Vogue helps to deliver streak-free performance by creating more pressure points across the entire length of the blade, and helps to eliminate snow and ice build-up.



The new Aero Vogue high performance silicone blade series is the latest addition to PIAA's growing line of high technology, high performance wiper blades. The series is offered in a variety of sizes with coverage for well over 98% of all registered vehicles on the road today. The PIAA Aero Vogue Silicone Wiper Blade sizes include: 12 in. (300mm), 14 in. (350mm), 15 in. (380mm), 16 in. (400mm), 17 in. (430mm), 18 in. (450mm), 19 in (480mm), 20 in. (500mm), 21 in. (530mm), 22 in. (550mm), 24 in. (600mm), 26 in. (600mm), and 28 in. (700mm) sizes covering 98% of all vehicles.



PIAA Aero Vogue wipers are sold individually and come with a special Silicone Windshield Prep-pack, which helps prepare the windshield and maximizes blade performance.



Established in 1963, PIAA Corporation is a global leader in the design and manufacture of high quality auxiliary driving and fog light systems, headlamp upgrade bulbs, accessory-lighting equipment, and silicone wiper blades for the automotive, light truck, off-road, motorsports, and powersports markets. PIAA's company mission is to combine market driven concepts with the latest technology to create products customers can use with pride and confidence while making night and inclement weather driving as safe as possible. More information is available at: www.piaa.com



Justin MacLauchlan

Brand Manager

PIAA Corp. USA

3004 NE 181st Avenue.

Portland, OR 97230

Tel: 1-800-525-7422 ex208

Email: justin.maclauchlan@piaa.com

More from Electronic Components & Devices