Silicone Rubber Gaskets suit EMI shielding applications.
Press Release Summary: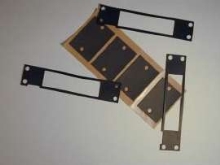 Nickel-graphite filled SNE555, silver-plated glass filled SGE565, and silver-plated aluminum filled SGE565 are silicone rubber gaskets supplied with conductive acrylic adhesives. Low viscosity primer allows lamination of 3M Corporations' No. 9713 conductive fabric supported acrylic adhesive and Venture Tapes' No. 1692 conductive particle-filled acrylic adhesive onto conductive silicone rubber and oriented wire filled silicone gasketing materials.
---
Original Press Release:

EMI Shielding Gaskets with Conductive Adhesive Backings


Philadelphia, PA -- Stockwell Rubber Company announces the availability of electrically conductive silicone rubber gaskets and cushioning pads with electrically conductive pressure sensitive acrylic adhesives for EMI shielding applications. Secure lamination of acrylic pressure sensitive adhesives onto silicone rubber is not possible without priming the silicone rubber. Stockwell has developed a proprietary low viscosity primer that allows for lamination of 3M Corporations' #9713 conductive fabric supported acrylic adhesive and Venture Tapes' #1692 conductive particle filled acrylic adhesive onto conductive silicone rubber and oriented wire filled silicone gasketing materials. Rogers' EC2130 and EC2040 nickel-graphite filled silicone rubber is a compressible 30 and 40 durometer conductive gasketing material. Application of 3M #9713 conductive fabric supported acrylic adhesive provides both a conductive adhesive surface for EMI shielding integrity and dimensional stability to reduce tears during handling and assembly. Stockwell's SNE555 nickel-graphite filled silicone rubber, SGE565 silver plated glass filled silicone rubber and SSE586 silver plated aluminum filled silicone rubber have also been supplied with conductive acrylic adhesives.

For 1" x 2" samples of EC2130 with #9713 conductive acrylic adhesive or SSE586 with #9713 conductive acrylic adhesive, complete information on the company's offerings in other silicone rubber products, and molding and fabrication capabilities, contact: William B. Stockwell, wbstockwell@stockwellrubber.com

Stockwell Rubber Company, Inc. 4749 Tolbut Street Philadelphia, PA 19136 (215) 335-3005 (215) 335-9433 fax Email: service@stockwellrubber.com Website: www.stockwell.com Rev 2/14/2005

More from Mechanical Components and Assemblies