Silicone Resin and UV Cure Coating protect electrical components.
Press Release Summary: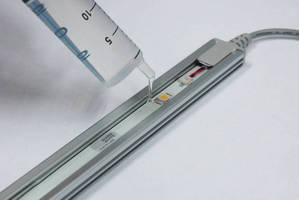 Curing within seconds upon exposure to UV light or within 2 hr at 80°C for curing in shadowed areas, UVCL protects electronic circuitry produced in high volumes. VOC-free, low-viscosity conformal coating allows application of relatively thin films without need for dilution. Also available, SC3001 silicone resin consists of optically clear and flexible 2-part encapsulation compound that helps to protect and insulate LED components from harsh/challenging environments.
---
Original Press Release:

Electrolube Launch a New Silicone Resin for LEDs and UV Cure Coating at FIEE Brazil



Electrolube, the global manufacturer at the forefront of specialist formulated chemicals for electrical and electronic components and assemblies, will launch a new fast cure UV conformal coating, UVCL, and the SC3001 optically clear silicone resin for LEDs, on stand K500 at the FIEE trade show in Brazil, Latin America's largest electrical, electronic, energy and automation event. The event will take place from March 23 to 27 at Anhembi in São Paulo.



The new UVCL UV cure conformal coating provides the highest level of protection for electronic circuitry at exceptionally high speeds of application, curing within seconds upon exposure to UV light or within 2 hours at 80C°, due to an innovative 'multi-cure' mechanism that facilitates cure in shadowed areas.



Designed for high volume users in fields such as automotive and consumer electronics, UVCL is the next generation of VOC-free coating with excellent storage stability and a long shelf life. The low viscosity coating allows the application of relatively thin films without the need for dilution and provides the highest level of flexibility, moisture and chemical resistance at minimal cost. The non-flammable coating fluoresces under UV light for ease of inspection and offers excellent electrical properties with a wide operating temperature range. UVCL is highly adaptable for different processes and provides excellent resistance to common 'thermal shock' cycling, moisture vapour, salt-spray, solvent and fluid exposure, and condensing environments. The coating also meets IPC-CC-830 requirements and is UL94 V-0 rated.



The 100% solids, single-component conformal coating is the ultimate choice for high throughput production processes, significantly reducing the time taken to complete the conformal coating step and gives superior 'sharp-edge' coverage with common selective coating methods. UVCL has been designed for automated processes using selective spray technology, however, other spraying techniques and touch-up application via brush may also be employed.



Electrolube's SC3001 silicone resin has grown to become one of the company's most successful products. SC3001 is an optically clear and flexible two-part encapsulation compound that has been specifically designed to meet a wide array of challenges facing the LED industry. It helps to protect and insulate components from the threats of harsh and challenging environments including moisture and general contamination. The new resin provides a complete barrier against such environments whilst still providing outstanding performance.



SC3001 features a number of benefits over its competitors including low viscosity, excellent electrical properties and flexibility. The silicone resin exhibits excellent resistance to water and a wide variety of chemicals, therefore providing the highest protection in a range of environments. SC3001 is RoHS compliant and is particularly suited to applications where thin films are required due to its moisture cure nature. It also remains flexible over an exceptionally wide temperature range of -60 to +200°C.



As an ISO 14001 qualified manufacturer, Electrolube is a trusted provider of high performance chemical solutions, formulated with the utmost responsibility to the environment and operator. Senior company representatives and chemistry experts from Electrolube's global offices will be available on stand K500 to assist visitors with their encapsulation resin, conformal coating, contact lubricant, cleaning and thermal management challenges.



More information about Electrolube may be found at http://www.electrolube.com



Contacts:

Electrolube Brazil

Rua D. Pedro Henrique de Orleans e Bragança, 364

Vila Jaguara

CEP 05117-000

São Paulo

BRAZIL

Tel: (+55) 11 3621-6800

Fax: (+55) 11 3621-6800

E-mail: hkw@hkw.com.br



Electrolube (A division of HK Wentworth Ltd)

International Headquarters

Karen L. Harrison

Group Marketing Manager

Email: karen.harrison@hkw.co.uk

Mobile: +44 (0) 7764 771392     

Office: +44 (0) 1530 419600



Press and Media Enquiries:

For interviews, comment, features and hi-res images:

Firefly PR

Suzanne Boudier

Office: +44 (0) 1305 759834

Mobile: +44 (0) 7776 281257

Email: info@firefly-pr.com

More from Cleaning Products & Equipment