Silicon Surge Suppressor provides rail signaling protection.
Press Release Summary: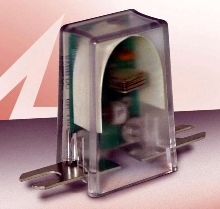 Installed as line-to-line or line-to-ground device, Series SXRR offers response time of less than 5 ns and continuously protects against surges up to 20 kA. Multiple Silicon Avalanche Suppressor Diodes are utilized, suppressing induced voltages and shunting high currents away from signaling circuits. Housed in clear polycarbonate module rated to UL94V-V0, unit has breakdown voltage threshold of 75 V at 5 mA and operates from -40 to +75ºC.
---
Original Press Release:

Silicon Surge Suppressor Provides Unparalleled Rail Signaling Protection


Now available from Smiths - Transtector Systems offers a solid state suppression device for railway signaling applications. The SXRR Series operates extremely fast and is rated for very high current levels.

The SXRR Series can be installed as a line-to-line or line-to-ground device. It provides continuous protection in the event that railway circuits become unbalanced, as a result of a surge strike. Featuring a response time which is less than 5ns, the SXRR Series provides protection against surges of up to 20kA (8/20µs).

Multiple Silicon Avalanche Suppressor Diodes (SASD) are used in the device, suppressing induced voltages and shunting high currents away from the signaling circuits. In the event of a catastrophic strike, the SXRR Series fails in open-circuit mode thanks to the presence of surge-rated fusing elements in series with the SASD circuit. The device is prevented from entering a "fail-short" condition whereby the failure occurs across the suppressor. Should these elements fail, backup protection is still provided in the form of a gas discharge tube (GDT).

The SXRR has a breakdown voltage threshold of approximately 75V at 5mA and is tested to both the 8/20µs and 10/100µs waveforms. The unit is equipped with a clear enclosure which darkens in the unlikely event of device failure. It is intended for installation on the entrance board, as close as practicable to where the outside conductors enter the enclosure.

The SXRR suppressor weighs around 0.05kg and is mounted across 1/4in (0.6cm)-sized studs on 2.38in (6cm) centre-to-centre spacing. Housed within a clear polycarbonate module rated to UL94V-V0, the unit operates over the temperature range -40 to +75ºC.

About Transtector Systems
Transtector Systems, Inc. was founded in 1967 and joined Smiths Interconnect Division in 1998. Transtector is an ISO 9001 certified manufacturer of surge suppression solutions for the worldwide telecommunications, medical, OEM and industrial markets. Transtector was the first surge suppression designer to use non-degrading silicon diodes in surge protective devices and holds two U.S. patents on suppression designs.

About Smiths Interconnect
Smiths Interconnect, a division of Smiths Group, is a global provider of electronic application specific components and sub-systems for the electronics interconnect, telecommunications, medical, industrial, aerospace as well as military and satellite markets worldwide.

Smiths Interconnect businesses comprise of; EMC Technology, Florida RF Labs, Hypertac Interconnect, LEA International, PolyPhaser, Radio Waves, Sabritec, Summitek Instruments, TECOM Industries, Times Microwave Systems, TRAK Microwave, Transtector Systems, Smiths Interconnect Shanghai and Smiths Interconnect Japan. Each business is a leader in its field and trades under their own strong brand name.

For further information:
Sara Garske: Marketing Manager, Transtector Systems
Tel.: 800 882 9110 or +1 208 772 8515,
Email: SGarske@transtector.com

More from Software