Silicon Protection Arrays have 5-8 pF input capacitance.
Press Release Summary: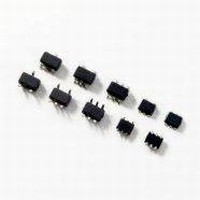 Including Models SP1001 and SP1002-01 with 8 and 5 pF input capacitance respectively, SP1000 Series features 1 nsec response time to protect high-speed circuits from repeated ESD events. SP1001-xx provides unidirectional overvoltage protection for up to 5 channels, while SP1002-01 protects single channel having bidirectional signals. Silicon Protection Arrays are rated for operating voltages up to 6 V, and have leakage currents of less than 0.5 µA.
---
Original Press Release:

Littelfuse Adds New Line of Silicon Protection Arrays for ESD Protection of Hand-Held, Industrial, Computer, and Commercial Equipment



Zener avalanche diode technology provides low capacitive loading and 1ns response time for high-speed signal pins and bidirectional protection for AC applications such as audio ports.

DES PLAINES, IL -June 5, 2008 - Littelfuse, Inc. today announced its latest line of Silicon Protection Arrays (SPAs) for ESD (electrostatic discharge) protection of hand-held, industrial, computer and commercial electronic products.

The SP1001-xx Series provides unidirectional overvoltage protection in a small single-package footprint for up to five channels, while the SP1002-01 protects one channel having bidirectional (AC) signals, such as those found in mobile phones, network adapters, and audio equipment.

The entire SP1000 Series has low input capacitance (8pF for the SP1001-xx; 5pF for the SP1002-01) and 1ns response time to protect high-speed circuits from repeated ESD events. Their SMT packaging and small size (appx. 0.09" sq. or less) allows them to be mounted close to the input port pins for optimal high-level overvoltage protection. They meet the requirements of IEC61000-4-2 for 8kV contact discharge.

These robust devices are designed to be connected from signal/data lines to ground on the circuit board side of the input connector, so they are the first board-level component encountered by an ESD transient. They can safely absorb repetitive ESD strikes at the maximum level specified without degradation.

Their very low input capacitance makes them suitable for signal line and interface protection from audio up to MHz frequencies. They are rated for operating voltages up to 6V, and have leakage currents of less than 0.5µA. Typical clamping voltages at the maximum 2A pulse current rating (8x20µs waveform) are 9.6V for the SP1001-xx Series, and 11.2V for the SP1002-01.

Typical applications are computer peripherals, PDAs, cell phones, digital cameras, network hardware ports, test equipment, and medical devices.

Availability. The SP1000 Series is RoHS (Restrictions On Hazardous Substances) compliant, and available in reel pack quantities of 3000 or 5000, depending on specific part number. OEM samples are available from stock. Reel quantity orders typically ship 8-10 weeks ARO.

Additional Information.

For More Information on the SP1000 Series SPAs and any of the Littelfuse line of ESD protection products, please visit the Littelfuse web site www.littelfuse.com, or contact your Littelfuse products representative of the Littelfuse Technical Support line at 1-800-999-9445.

For circuit protection application design ideas, please visit the new Application Design Center section of the Littelfuse web site.

If you have questions or require technical support please contact the Littelfuse technical support hotline at 1-800-999-9445.

About Littelfuse
As the worldwide leader in circuit protection products and solutions with annual sales of $536.1 million in 2007, the Littelfuse portfolio is backed by industry leading technical support, design and manufacturing expertise. Littelfuse products are vital components in virtually every product that uses electrical energy, including automobiles, computers, consumer electronics, handheld devices, industrial equipment, and telecom/datacom circuits. Littelfuse offers Teccor®, Wickmann® and Pudenz® brand circuit protection products. In addition to its Des Plaines, Illinois, world headquarters, Littelfuse has sales, distribution, manufacturing and engineering facilities in Brazil, China, England, Germany, Hong Kong, India, Ireland, Japan, Korea, Mexico, the Netherlands, the Philippines, Singapore, Taiwan and the U.S.

For more information, please visit Littelfuse's web site at www.littelfuse.com.

Contact:
Dan Stanek
Director of Marketing & Corporate Marcom
Littelfuse, Inc.
Tel: 847-391-0714
dstanek@littelfuse.com

More from Packaging Products & Equipment