Silicon Pressure Sensors incorporate ASIC technology.
Press Release Summary: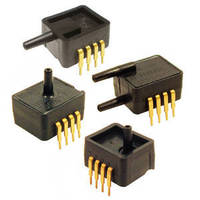 Available in pressure ranges of 15, 30, and 100 psi, ASDX Series sensors offer output options of ratiometric 12-bit analog or 12-bit I2C or SPI digital, and supply voltages of 3.3 or 5.0 Vdc. They are designed for use with non-corrosive, non-iconic working fluids and provide digital correction of sensor offset, sensitivity, temperature coefficients, and non-linearity. Standard calibrations include inches H
2
O, cm H
2
O, psi, mbar, bar, kPa, and absolute, differential, and gauge pressure.
---
Original Press Release:

Honeywell Announces Additional Low-Pressure Silicon Pressure Sensor Upgrades



Pressure Ranges of 15 psi, 30 psi, and 100 psi Incorporate ASIC Technology, an SPI Digital Output Option, and a 3.3 V Power Supply Option

MINNEAPOLIS, October 12, 2009 - Honeywell (NYSE: HON) has continued its expansion of the industry-leading ASDX silicon pressure sensor family with the new ASDX Series which now offers pressure ranges of 15 psi, 30 psi, and 100 psi. With this launch, Honeywell's ASDX Series portfolio consists of 1 psi to 100 psi low pressure products and ultra-low pressure products of 0 to 10 inches of H2O gage, ±10 inches of H2O differential, and ±5 inches of H2O differential.

The ASDX Series' Application Specific Integrated Circuit (ASIC)-based design provides a quick, highly accurate, amplified condition pressure reading. Calibrated output values for pressure are updated at approximately 1 kHz. These sensors offer enhanced application flexibility with output options of ratiometric 12-bit analog or 12-bit I2C or SPI digital; supply voltages of 3.3 Vdc or 5.0 Vdc; standard calibrations including inches H2O, cm H2 O, psi, mbar, bar, kPa; and absolute, differential, and gage pressure types.

Additional signal conditioning incorporated into ASDX Series sensors allows customers to remove components from their PC board in order to free space and reduce costs normally associated with those components (acquisition, inventory, assembly, etc.). Incorporating this ability within the sensor eliminates many potential problems that could arise from having multiple components for signal conditioning spread across a circuit board.

Designed to provide digital correction of sensor offset, sensitivity, temperature coefficients, and non-linearity, ASDX sensors are intended for use with non-corrosive, non-iconic working fluids such as the air and dry gases found in potential industrial and medical applications including barometry, flow calibrators/gas-flow instrumentation, HVAC, sleep apnea equipment, pneumatic controls, and ventilation/airflow monitors.

Honeywell International (www.honeywell.com ) is a Fortune 100 diversified technology and manufacturing leader, serving customers worldwide with aerospace products and services; control technologies for buildings, homes and industry; automotive products; turbochargers; and specialty materials. Based in Morris Township, N.J., Honeywell's shares are traded on the New York, London, and Chicago Stock Exchanges.

For more news and information on Honeywell, please visit www.honeywellnow.com


More from Materials