Silicon Grinding System is designed for purification reactors.
Press Release Summary: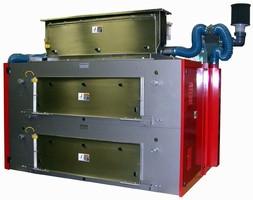 Utilizing Gran-U-Lizer(TM) technology, metallurgical silicon grinding system, MPE Si Process, is designed to grind 98% pure metallurgical grade silicon to ideal size required for high-purity silicon purification reactors. It accepts large chunks of metallurgical Si and discharges fine ground Si with typical particle size ranging from 50-200 microns, or as required, for post reactor purification.
---
Original Press Release:

MPE Si Process



A Silicon Grinding System Developed Specifically for Purification Reactors

Modern Process Equipment (Chicago, IL) introduces a Metallurgical Silicon grinding system, the MPE Si Process, which is designed to grind metallurgical grade silicon (98% pure) to the ideal size required for high-purity silicon purification reactors.

MPE has supplied numerous grinders to the silicon market for reactor purification and now offers the entire turn-key solution, with its patented Gran-U-Lizer(TM) technology at the core, to maximize yield, minimize wear and eliminate "fines" (dust) during the grinding process. The MPE Si Process accepts large chunks of metallurgical Si and discharges fine ground Si with a typical particle size ranging from 50 to 200 microns, or as required, for post reactor purification.

The MPE Si Process improves reactor efficiency and eliminates silicon screening and off-spec production waste. The downstream post-reactor purity levels of trichlorosilane and/or polysilicon improve with MPE Si Process accuracies.

For additional information on the MPE Si Process, please contact MPE directly at 773-254-3929 or visit www.mpechicago.com.

About MPE
Modern Process Equipment Corp. (MPE) is the world's leading manufacturer of precision particle reduction equipment. MPE has been supplying its customers with superior particle size reduction solutions for over forty years, earning the reputation as the place to go to improve product yields and reduce the generation of unwanted fines. MPE aspires to design and manufacture the most modern, innovative and highest quality equipment with the most responsive, practical and timely service possible.

For more information about MPE's complete line of equipment, contact Modern Process Equipment, Inc. 3125 South Kolin Avenue, Chicago, IL 60623; call 773-254-3929; visit www.mpechicago.com.

Contact:
Lizzie Ephraim
Modern Process Equipment, Inc.
P: (773) 254-3929, lizzie@mpechicago.com

Related