Silica Fibers offer numerical apertures to 0.53.
Press Release Summary: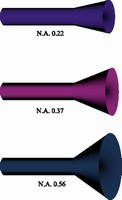 Suited for industrial, sensor, and medical diagnostic applications, Optran Ultra series offers numerical apertures (NAs) of 0.37, 0.44, and 0.53 and exhibits spectral transmission from 350-2,200 nm. For penetration to shorter wavelengths, Optran Plus UV offers transmission from 190-1,200 nm without solarization. Both types are suited for applications from industrial spectroscopy to laser welding and medical sensing to delivering photodynamic therapy.
---
Original Press Release:

CeramOptec Extends Line of High-NA Fibers



September 7, 2006, East Longmeadow, MA. CeramOptec offers silica fibers with high numerical apertures (NA) with high transmission from the deep UV (non-solarizing) to the NIR. In addition to the company's Optran Plus specialty fibers, CeramOptec introduces Optran Ultra, which offers even higher NAs of 0.37, 0.44, and 0.53. Targeted at the industrial, sensor, medical diagnostic and specialty markets, the Optran Ultra and Optran Plus lines are well-suited for applications from industrial spectroscopy to laser welding, from medical sensing to delivering photodynamic therapy, these fibers exhibit exceptional spectral transmission from 350 - 2200 nm. For penetration to even shorter wavelengths, the Optran Plus UV offers transmission from 190 -1200 nm without solarization.

The innovative leader of the fiber optic industry, CeramOptec manufactures its own preforms. The company uses a proprietary PCVD process to create high-grade specialty fibers with a wide range of profiles and dopands, numerical apertures from 0.12 to 0.66, and high radiation resistance levels. Fibers are drawn in-house before being assembled into fiber optic bundles and assemblies. This ensures customers the finest transmission, highest temperature capability, and widest range of numerical apertures.

The fibers are available off-the-shelf for immediate delivery.

About CeramOptec Industries, Inc:

CeramOptec is a world leader in the production of specialty optical fiber and fiber optic-based products for industrial, scientific, medical, and dental applications. CeramOptec manufactures high quality specialty optical fiber, bundles, and spectroscopic accessories with unmatched delivery times.

CeramOptec produces stock and custom silica / silica, plastic-clad silica, and hard polymer-clad silica optical fibers; fused capillary tubing; DPSS lasers; diode modules; and low loss bundles and assemblies for UV, VIS, and IR transmission, medical laser delivery, sensors, plasma fusion, and spectroscopy.

Company Contact:

Cheryl Provost
Industrial/Scientific Sales Engineer
CeramOptec
515A Shaker Road
East Longmeadow, MA 01028
Ph: (860) 747-4487
Fax: (860) 793-4909
Toll Free: (800) 321-0790
cheryl.provost@ceramoptec.com
www.ceramoptec.com

More from Controls & Controllers