Sight Glass Magnets remove ferrous contamination.
Press Release Summary: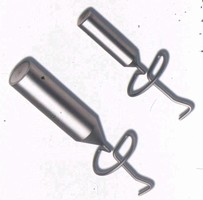 Rare Earth Permanent Sight Glass Magnets remove tramp metal contamination from plastic resin and pellets as it passes through site glass loader on its way to molding machine. Featuring continuously welded construction, magnets are available in 4 sizes to fit most site glass loaders. Users can choose between 1 in. or 5/8 in. dia.
---
Original Press Release:

Eriez Permanent Sight Glass Magnets Remove Fine and Weakly Magnetic Ferrous Contamination from Material Flows



Eriez is pleased to introduce its first magnet designed exclusively for the plastics industry, the new Super Strength Rare Earth Permanent Sight Glass Magnet. This powerful magnet removes tramp metal contamination from plastic resin and pellets as it passes through a site glass loader on its way to a molding machine.

Eriez' Rare Earth magnet circuit utilizes the strongest magnet material available to remove more fine iron contamination and reduce product wash-off.

These advanced magnets feature continuously welded construction, and four sizes are available to fit most site glass loaders. Customers can choose between two different magnet diameters, 1-inch or 5/8-inch (25.4 mm or 15.9 mm).

"Eriez' new Permanent Sight Glass Magnets are stronger, less expensive and match (dimensionally) the current industry standard," said Dave Heubel, Eriez' Market Manager for the Sanitary Industries.

Eriez is recognized as world authority in advanced technology for magnetic, vibratory and metal detection applications. The company's magnetic lift and separation, metal detection, materials feeding, screening, conveying and controlling equipment have application in the process, metalworking, packaging, recycling, mining, aggregate and textile industries. Eriez manufactures and markets these products through nine international facilities located on five continents. For a copy of the Eriez brochure SB-612, call toll-free in the U.S. and Canada at (888) 300-(ERIEZ) 3743 or (814) 835-6000. For online visitors, download product detail at www.eriez.com or send Email to [email protected]