SIFAM Ships 1 Millionth Fused Fibre Component.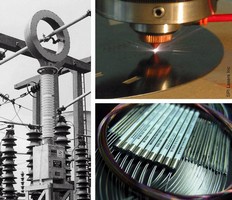 Torquay, UK - April 24, 2007- To coincide with the upcoming Laser 2007 exhibition in Munich June 18-21, SIFAM Fibre Optics Ltd is proud to announce the shipment of its one millionth fused optical fibre component. Following a tradition of supporting the most demanding industrial applications, SIFAM's one millionth device will be supplied for integration in the latest high power fibre laser.

Since manufacturing their first fibre splitter over two decades ago, SIFAM have developed their unique heating and fusing process to produce fibre components with almost no loss, typically <0.02dB (<0.005%). With a million devices shipped, reliability in the field is substantially less than 1 FIT (Failure-in-Time). This makes SIFAM's fused couplers some of the most reliable components in any fibre optic system.

With this pedigree, SIFAM's components are enabling a huge range of industrial applications. Examples include the ubiquitous low loss 980/1550nm multiplexer used to give the lowest noise figures in optical amplifiers found throughout terrestrial and submarine telecommunications networks. More recent developments include red, green and blue visible wavelength combiners for use in laser projection displays and biomedical instruments. SIFAM are also one of the major enablers behind fibre laser cutting, welding and marking, providing many of fibre laser OEM's with the critical high power components that combine the output from multiple laser diodes into the fibre laser.

The latest product releases on display at Laser 2007 include high power combiners with 2 to 19 input fibres, larger diameter multimode fibre and single mode, polarisation maintaining or large mode area fibre feed-through. All of these developments enable higher laser output powers and faster more precise cutting.

"By subtly adapting our manufacturing processes we have been able to reliably supply the latest applications in volume to follow the trends in the fibre optics industry over the last two decades" explains Paul Ellis SIFAM Fibre Optics CEO. Paul, who started with the company as a Production Engineer 17 years ago, continues "we have seen the market develop from early sensor research, to explosive growth in telecoms networks, to the latest trend for high power fibre lasers. Whilst our growth to the millennium was fuelled by the telecom boom, the 1 millionth device will be a high power combiner delivered to a fibre laser manufacturer. Indeed we are seeing 100% growth in the high power segment, faster than the 25% forecast by some analysts , and expect significant further developments to be announced at Laser 2007"

To supply 1 million components from the same technology platform has required SIFAM to support applications through their entire lifecycle. Paul Ellis explains, "As applications have matured we have developed the capability to provide increased volumes and cost reductions, with 70% of our output now provided from offshore manufacturing. Uniquely, our offshore manufacturing partners are based in Eastern Europe, a location chosen to match the supplier base familiar to the automotive and industrial users who are driving the current high growth applications".

About SIFAM Fibre Optics
For over 20 years, SIFAM has been renowned for the design and manufacture of the world's leading fused fibre components. Today, SIFAM offers expertise in both passive and active photonic technologies and supplies a large proportion of customers with fully integrated electro-optic solutions.

SIFAM's portfolio of components includes wavelength combiners for almost any wavelength that can be carried in silica fibre. Tap couplers are also available to split off anything from 50% to 0.001% of the light in the signal fibre. With 22 years of experience, SIFAM have handled almost all varieties of optical fibre made and can advise on fibre choice and manufacture devices in most fibre types, including polarisation maintaining and small, or large, diameter fibre. High power combiners are available to combine the output of up to 19 laser diodes in a range of configurations, including 6+1x1 with single mode (SM), polarisation maintaining (PM) or large mode area (LMA) central fibre feed through. These have been customer tested to optical powers of over 100 Watts cw and 100's kW pulsed. Individual devices can also be combined with active devices and supplied in sub-modules ready for system integration with minimum fibre handling.

For more information contact
Graham Catley, VP Sales, SIFAM Fibre Optics Ltd, +44 1803 407784, [email protected], www.sifamfo.com or make an appointment to meet with us at Booth 121 hall B1 at Laser 2007, Munich 18-21 June 2007.