Sierra Wireless Selects Innovative R&S ATS1800C Test Chamber with Gold Reflector for 5G NR FR2 Testing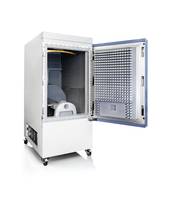 Leading IoT solutions provider Sierra Wireless has selected the compact antenna test range (CATR) based R&S ATS1800C for mmWave frequencies (FR2) testing thanks to its class-leading characteristics. The transportable solution from Rohde & Schwarz features a state-of-the-art golden CATR reflector with rolled edges and a very smooth surface to minimize scattering and to provide precise measurement results as required for operation at high frequencies.
Test and measurement is moving from conducted testing to over-the-air (OTA) testing, especially in 5G NR due to the increased frequency range. One challenge of OTA testing is to maintain a compact test chamber size while providing a large quiet zone (QZ), or useable measurement area, in a wide frequency range. Rohde & Schwarz developed the R&S ATS1800C to combine all this, meeting current and upcoming requirements for 5G NR OTA testing.
The R&S ATS1800C is a turnkey, high-end chamber with a small footprint of only 1.3 m2. Thanks to its movable design, it is highly flexible and transportable, allowing the chamber to be easily moved from one lab to another. The solution provides a large quiet zone of 30 cm, fulfilling 3GPP 5G NR conformance test requirements. With its high shielding efficiency, the R&S ATS1800C is designed to provide a trouble-free environment for uninterrupted measurements of 5G antennas, modules and devices.
A unique characteristic of the R&S ATS1800C is its state-of-the-art gold CATR reflector, transforming the incoming spherical wave front to a plane wave. Manufacturing the reflector requires processes that are accurate in the micrometer range. To achieve such high precision, Rohde & Schwarz has developed an innovative manufacturing method, delivering high quality reflectors reproducibly.
The R&S ATS1800C supports the testing of devices weighing up to 8 kg, which makes it well suited for testing a variety of active or passive DUTs, from small chip modules to tablets and laptop or even small cells. Hardware triggering allows measurements during continuous movement of the high-precision 3D positioner, which can reduce measurement time by a factor of 5 to 10.
Bill Seefeldt, Senior Vice President of Engineering at Sierra Wireless, commented: "As a wireless solutions leader, we wanted to find a CATR based solution to ensure the best measurement quality and accuracy. We were impressed with the OTA solutions Rohde & Schwarz offers, and we selected the R&S ATS1800C. Sierra Wireless is a long-standing customer of Rohde & Schwarz."
Alexander Pabst, Vice President of Systems and Projects at Rohde & Schwarz, added that "Rohde & Schwarz is committed to providing top-of-the-line T&M solutions to our customers in the mobile communications industry. We are pleased to provide Sierra Wireless with the unique, gold reflector version of the R&S ATS1800C. We look forward to further cooperation with Sierra Wireless on cutting-edge wireless communications technologies."
For more information on the R&S ATS1800C, visit https://www.rohde-schwarz.com/ats1800C
Press Contact:
Rohde & Schwarz
Rohde & Schwarz GmbH & Co. KG
Muehldorfstrasse 15 | 81671 Munich
Christian Mokry
Tel.: +49/89 4129-13052
press@rohde-schwarz.com
www.rohde-schwarz.com
About Sierra
Wireless Sierra Wireless is the leading IoT solutions provider that combines devices, network and software to unlock value in the connected economy. Companies globally are adopting IoT to improve operational efficiency, create better customer experiences, improve their business models and create new revenue streams. Whether it is a solution to help a business securely connect edge devices to the cloud, or a software/API solution to help manage processes associated with billions of connected assets, or a platform to extract realtime data to make the best business decisions, Sierra Wireless will work with you to create the right industryspecific solution for your next IoT endeavor. Sierra Wireless has more than 1,300 employees globally and operates R&D centers in North America, Europe and Asia. For more information, visit www.sierrawireless.com.
Connect with Sierra Wireless on the IoT Blog at www.sierrawireless.com/iot-blog, on Twitter at @SierraWireless, on LinkedIn at www.linkedin.com/company/sierra-wireless and on YouTube at http://www.youtube.com/SierraWireless.
About Rohde & Schwarz
Rohde & Schwarz is a leading supplier of solutions in the fields of test and measurement, broadcast and media, aerospace | defense | security and networks and cybersecurity. The technology group's innovative communications, information and security products help industry and government customers ensure a safer and connected world. On June 30, 2019, Rohde & Schwarz had about 12,100 employees. The independent group achieved a net revenue of EUR 2.14 billion in the 2018/2019 fiscal year (July to June). The company is headquartered in Munich, Germany, and has subsidiaries in more than 70 countries, with regional hubs in Asia and America.
Rohde & Schwarz USA, Inc.
6821 Benjamin Franklin Dr, Columbia, MD 21046, USA
Tomas Berghall
Phone: +1-503-523-9489
Tomas.Berghall@rsa.rohde-schwarz.com
https://www.rohde-schwarz.com/us/home_48230.html
More from Materials