Siemens Energy to Supply Power and Heat for the Winter Olympics in Sochi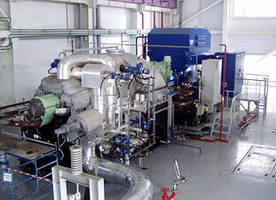 Erlangen, Germany - Siemens is to contribute to the success of the 2014 Winter Olympics in the Russian city of Sochi by implementing several energy projects worth a total of more than EUR125 million. Siemens Energy has supplied gas and steam turbines to the local utility Sochinskaya TES, which will ensure power and heat supply for athletes and visitors at the 2014 Winter Olympics.

Gas and steam turbines to double generating capacity of Sochinskaya

With these new turbines Sochinskaya wants to double the capacity of its existing power plant in Sochi. Commissioning is scheduled for mid-2010. "We're pleased that our efficient industrial power plant solutions will ensure a supply of energy for the Winter Olympics in Sochi," said Markus Tacke, CEO of the Industrial Power Business Unit of Siemens Energy.

Siemens Energy supplied two SGT-700 gas turbines each rated at 29 megawatts (MW) and a 25-MW steam turbine with generator. The company also supplied switchgear for the high- and medium-voltage levels. The Siemens turbine-generators with an efficiency level above 50% will double the electricity generating capacity of the Sochinskaya cogeneration plant to approximately 160 MW. The plant's heating capacity will increase to 210 gigajoules (GJ).

Siemens Energy has also provided industrial gas turbines and generators for another Olympics project announced by the Russian government. Six SGT-800 industrial gas turbine-generators each rated at 47 MW will be deployed at the Tuapse refinery on the Black Sea. The first three gas turbine-generators are scheduled for delivery in October 2010 to OOO RN-Tuapasinsky NPZ, a subsidiary of the Russian oil company OAO Rosneft. The remaining three units will be delivered in October 2012 and will generate electricity and steam as part of the expansion of the Tuapse refinery.

More from Communication Systems & Equipment